This week's Highlights
Crowdfunding more food events


We're launching a very special crowdfunder to bring the popular Secret Feasts events to three more of Camden's high streets. We're calling on local stakeholders big and small – anyone who'd like to support the hospitality venues near them – to consider making a pledge. We'll reward all the key project funders with loads of publicity for their own businesses or projects via Camdenist, as well high visibility in the promotional videos, dedicated print magazine and the major campaign that ensures each selected high street gets a genuine and lasting boost. If you can't support the crowdfunder financially (or by buying tickets when they are announced), we'd love your support in spreading the word to local stakeholders who might. Share this link with them, and let's all rally around the fantastic food and drink operators in our borough.


Let It Roll Records big closing down sale
Sad news of the imminent closure of another of Camden's best crate digging destinations, as Kentish Town Rd's Let It Roll Records throws in the towel this month after five years of fighting the good fight for the love of vinyl. One bit of good news is the 40% off they are offering across all stock from today. Head down there and end up buying more than you anticipated, as usual. Then read our guide to where you can still enjoy the joy of flicking through racks of records in the local area.
Evenings at Camden Market Hawley Wharf
Every Wednesday and Friday evening 6pm-8.30pm in the Waterside Halls at Camden Market Hawley Wharf, you can enjoy a free programme of live jazz performances. Hawley Wharf's canal-side halls bring the unique flavours of Camden Market's famous food traders together with plenty of covered seating, heaters and accessible facilities. To kick off 2023, live jazz will accompany your choice of food and drinks from over 35 global food traders. Plus, beat the winter blues with the daily happy hour from 4.30-7pm, with £4 beer, wine and food specials to choose from, or £6 cocktails. More info plus details of all the shops, food, stalls, entertainment and more are in the fully updated Camdenist guide to Hawley Wharf. #HawleyWharfLates


Wellbeing talks 


Focusing on the wealth of talent coming out of Kentish Town's Creators House studios right now, we've been speaking to Glory Ebengo, founder of CouchTalksWithGlo. It's a platform for what she refers to as "unfiltered conversations about life", where she creates podcasts, blogs and more about the challenges her generation are facing, and the best ways to navigate them.


Five Gigs This Week

MUSICAL THEATRE ⏩ MUSICALS BY CANDLELIGHT at St Paul's Church
Immerse yourself in music from some of the world's greatest musical theatre composers, all performed by a string quartet in atmospheric candlelight.   Fri 3 Feb
 JAZZ ⏩ THE LIAM STEVENS TRIO at The Boulevard Theatre
From this 'theatre in the clouds', enjoy one of London's premium weekly jazz late shows featuring intimate performances with some of the best on the scene. This week, it's a trio led by world-class jazz pianist Liam Stevens with bebop sounds.   Sat 4 Feb
 
GREEK ⏩ SKOUTAS-MITARAKIS-ZARIAS at The Water Rats
London Greek Music have invited the iconic rebetiko trio Zarias, Skoutas and Mitarakis to get you dancing.   Sun 5 Feb

 FOLK ⏩ NIGGUN: TRADITIONAL JEWISH MELODIES at JW3
Join this new singing circle, celebrating a variety of Jewish song traditions, especially niggunim, the wordless melodies of Chassidic communities. All are welcome. No prior knowledge needed.   Mon 6 Feb
 
CLASSICAL ⏩ FOR CRYING OUT LOUD! at The Wigmore Hall
This special concert just for parents or carers and babies under 1 is presented by Royal Academy ensemble Gudmundsdottir-Zhang Duo. Listen to live music together in a relaxed environment.   Weds 8 Feb 

& Also 
If you fancy putting on a community event this year, anything from a celebration of the 75th anniversary of Windrush to a big summer fair, or a party to mark King's Coronation, Camden Council are welcoming grant applications until the end of Feb. ⏩ Head to canal-side brewery 3 Locks tonight for the private view of Royal College of Art MA Sculpture Interim show Everything is Temporary. It's the work-in-progress of 24 students from across the globe in a range of techniques; from textile and ceramic to robotics and 3D print. ⏩ If you fancy learning a skill that the AI bots can't come after (just yet) then Learning Curve Group have just relocated their Camden hair and beauty academy to the huge unit on Chalk Farm Rd that was previously health food shop Organico (and Escapade fancy dress emporium before that). ⏩ The Gate Theatre (who we featured last week) have teamed up with Kentish Town Community Centre to offer 'pay what you can' rehearsal and dance studio space, with proceeds going to the in-house Foodbank.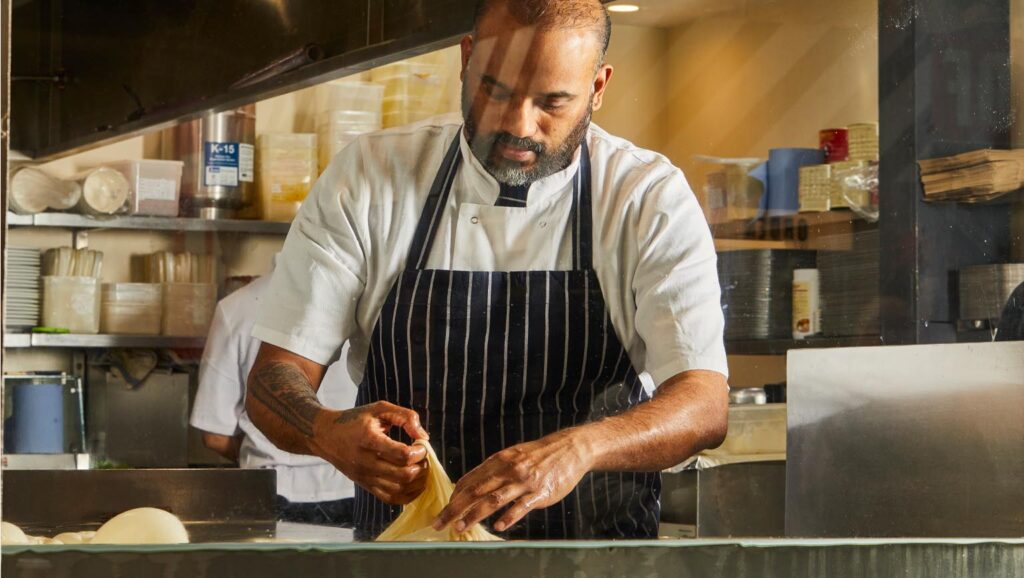 An unexpected enclave of global flavours in a neighbourhood that offers plenty more than the famous railway terminus