This week's Highlights
Support high street hospitality this week
For environmental, economic, ethical and practical reasons, there's never been a better time to head out and support the restaurants on your doorstep across Camden's high streets, by enjoying an all-in £25 menu courtesy of Secret Feasts. With 2023's first payday mercifully now upon us, and the dregs of a Dry January making way for an altogether more sociable February, grab a ticket to our celebration of the hidden delights around Euston. We know our audience are big fans of this affordable way to discover new places to eat, so to help you decide, here are 2-minute videos revealing more about each of the selected restaurants and their menus. We look forward to welcoming you all this Thursday (2nd Feb). Cheers! 🍻

Why Bootycandy is important
As Notting Hill's long-acclaimed The Gate Theatre prepares for its first season in its new Camden Town home, we hear from star of the show, Prince Kundai, about the play's transformative story and its impact on his own life. Read the 2-minute interview here.

Hand in treasure at Ronnie Scott's
It's the return of the popular Ronnie Scotts instrument amnesty this Saturday, where the legendary Frith Street venue collects London's unwanted musical instruments to give to school age children all over the world. It's usually a star-studded affair too, with previous donors including Brits winner Sam Smith (a violin), Nitin Sawhney (a guitar) and even US trumpeter Neil Cowley handing over two specially commissioned trumpets. Head down to Ronnie's from 10am-3pm tomorrow (Sat 28 Jan) with anything from a dodgy plastic recorder to a state-of-the-art mixing desk, and they'll welcome you with a cuppa or a glass of bubbles, too.
Discover Darjeeling Express
In this week's explainer we uncover 5 things you'll be delighted to know about the hot new arrival helmed by a fast-rising celebrity chef, making a triumphant return to Kingly Court this week: Darjeeling Express. Read all about it in 30 seconds here.

Five local gig highlights
Five highlights this week that you can venture out and see in the neighbourhood. Make sure to check some out. Discover
ALL
the gigs across Camden (and the rest of London) by browsing
Halibuts.com
.
 ROCK ⏩ CAMDEN ROCKS ALL-DAYER at The Fiddler's Elbow
Indie-rock bonanza featuring Paper Anthem plus The Fades, Harry And The Chicks, Subject To Change, Danama, Mayan, Tippi McGarry, Ed Bennett, Gecko And The Bee and Lovebar live   Sat 28 Jan
ALTERNATIVE ⏩ BLACK FLAG at The 02 Kentish Town Forum (pictured)
Black Flag's ever-evolving music has stood the test of time and become a key influence for numerous artists across punk, metal, indie rock, and more.   Sat 28 Jan  
BLUES ⏩ MA BESSIE & HER PIGFOOT BAND at The Dublin Castle
Empress of the Blues, Bessie Smith, paid glorious tribute by Julia Titus and her 'Pig Foot' band; presenting an evening of classic blues, jazz tunes, and covers from the last 50 years of popular music.   Sun 29 Jan
JAZZ ⏩ DOM PIPKIN'S SWEET SOUND OF NEW ORLEANS at Phoenix Arts Club
Pipkin draws material from the greats – Fats Domino, Dr John, and Allen Toussaint – and mixes it with his own life-affirming songwriting true to the spirit and authenticity of this most spicy of piano styles.   Mon 30 Jan
COUNTRY ⏩ VIC ALLEN ALBUM LAUNCH at The Water Rats
Blending an acoustic-driven sound with strong influences from modern country music, Vic Allen celebrates the launch of her debut LP "Some Place I'd Rather Be".   Tues 31 Jan 
& also
Swains Lane fishmonger Bournes sadly announced it was closing late last year, but the exciting news is that London Shell Co, the brother and sister team behind two established seafood and wine-focused floating dining rooms on Regent's Canal are taking over the site. They will offer dining for up to 30 as well as loads of quality fish and select vino to take home. ⏩ Green energy champions Power Up North London have launched a share offer to raise £80k to stick solar panels on the top of the roof of Talacre sports centre. It will save carbon emissions, power the facilities and deliver returns to shareholders over 20 years. Find out more. ⏩ Camden Council and LABS have 10 free co-working spaces to dish out to entrepreneurial local businesses this year, all based in their Atrium building in the heart of Camden Market. ⏩ While the eco cleaning products cart Refill Station has reportedly had it's Council support cut, so no longer appears at Queen's Crescent Market, the good news is that Fair-Well, the plastic-free grocery business based in a repurposed milk float can now be found parked up on the Market every Thursday.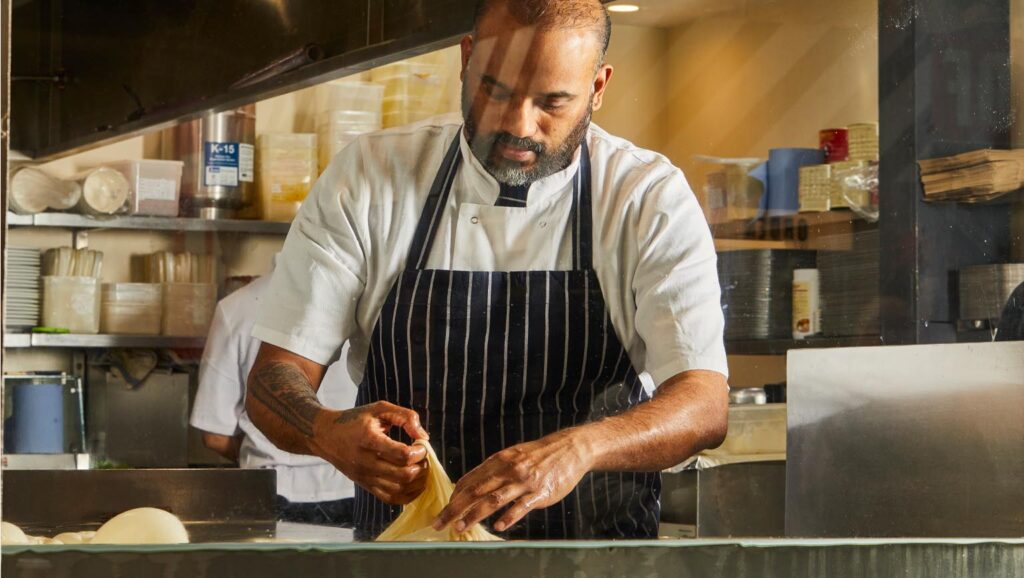 An unexpected enclave of global flavours in a neighbourhood that offers plenty more than the famous railway terminus