Darjeeling Express: 5 things you need to know
Darjeeling Express: 5 things you need to know
Culinary curry in Carnaby
What is Darjeeling Express?
It's the happy return of a much-lauded Indian streetfood spot to Kingly Court, off Carnaby Street. What started life as a supper club for a dozen friends and morphed into a kitchen pop-up at the Sun and 13 Cantons, first launched here before lockdown. But the pandemic forced a hard rethink, including a move to a site on Garrick St. Now it's back in it's spiritual home, preparing to serve its iconic dishes up on the third flood of this top notch foodie haven. 
Who is behind it?
It's founded by Asma Khan, who has risen to become one of the UKs most prominent culinary stars, including her appearance on Netflix smash hit Chefs Table,  authoring a bestselling cookbook, and being the first ever chef to appear in Vogue's Top 25 most influential women list.
Why is it interesting?
Asma has always worked with a 100% female staffed kitchen. The food is a homage to her Mughali ancestry and the influence of growing up in Calcutta, so it is purposefully served in the traditional sharing style of the 'daawat' (feast), meaning big platters mixing textures, spices, colours and and flavours. Beloved of the big guns of food criticism, this is excitingly nothing like your common-or-garden local curry house.
How do they go about it?
The new, extended menu has Asma's iconic Kosha Mangsho-Bengali goat curry and mutton Shikampuri Kabab alongside new things like a traditional Indian Sunday brunch with bottomless masala chai. In the evenings, a £65 set Royal Thali menu gives you the chance to sample loads of different dishes and sides.
When and where can I find it?
The official reopening is Monday 30th Jan, although some special feasts are already happening to celebrate the 10 years since Darjeeling Express first ventured from supper club towards becoming one of the West End's hottest tickets, and it's chef propelled to international stardom.

Find Darjeeling Express on the Top Floor, Kingly Court, W1B 5PW. More info and bookings.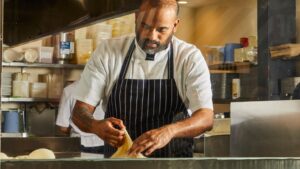 An unexpected enclave of global flavours in a neighbourhood that offers plenty more than the famous railway terminus