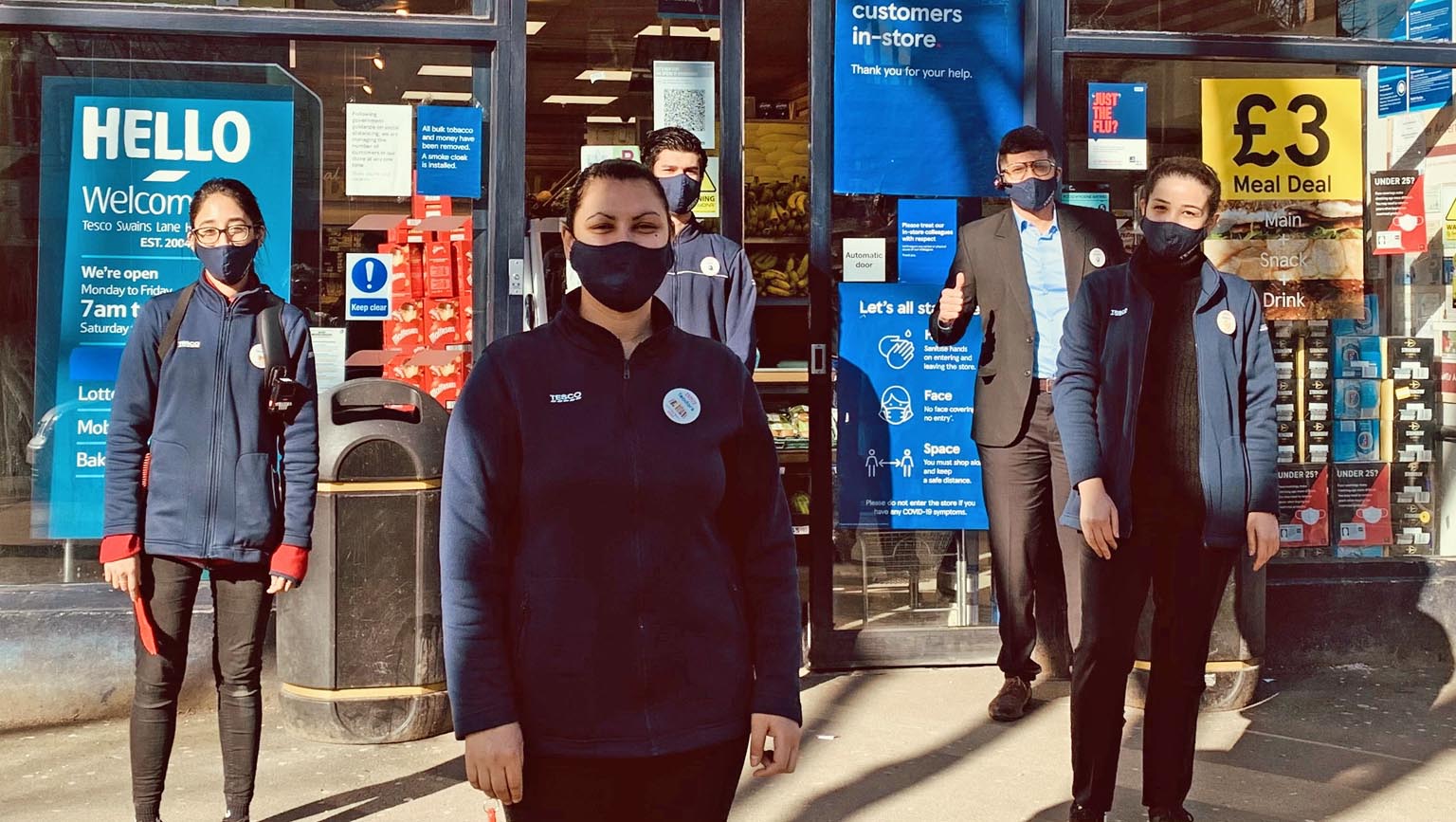 High Street Heroes: The Team at Tesco, Swains Lane
With its enviable recently-completed row of independent shops, Swains Lane has become the sort of postcard local high street that many people can only ever dream of. Yet it is the identikit Tesco branch up at one end that scooped the people's vote when it came to recognising Camden's Covid Champions.
That's not strictly true, as the pokey store itself didn't win, but rather the team that work there and their tireless efforts keeping locals fed through this last year.
A Tesco is often seen as a threat to the very future of small, vibrant high streets, but that doesn't mean their branches and supply logistics are any less vital to local life (particularly in a pandemic), or that their staff are somehow less invested in serving the community than anyone else.
Therefore the nomination of the team as Tesco in Swains Lane for an award goes to show how appreciated selfless good work is, no matter how it is branded. In an arcade stuffed full of community-minded small businesses and brilliantly worthy individuals, it's really nice that the hard work of the Tesco staff hasn't been overlooked simply because they work under the banner of a massive corporation. Jessica Furseth tells their story.
For months on end as we've cycled through the various stages of lockdown, grocery shops have found themselves often being the only places open for people to go, and let's face it: many of us have been going a bit stir crazy. On top of that, shop staff who've previously been busy stocking shelves and ringing up the till had to take on a new, vitally important role: keeping us all safely fed during a pandemic.  
"It has been a hectic year for everyone," says Mohammed Kassim, who manages the little Tesco on Swains Lane, Parliament Hill. "But the team and I have been making sure that our priority is to provide the best possible service and ensure everyone is safe at all times."
Kassim, together with his team – Mahmoud, Bejoy, Teodora, Tanisha, Rujeena, Makele, Jacob, Elyas, Mahsa, Golam, Sophia, Zavaheer, and Ariful – run the Swains Lane store, also known as the Dartmouth Park Express.
They have been voted winners after members of the public pointed out the tireless work they have been doing throughout the pandemic. This high praise also demonstrates that being community-focused pillars of the High Street is not only reserved for its independent shops.
The store has been a staple in the neighbourhood for about 30 years, first as a Crispins, before that mini-chain was taken over by Tesco when the grocery giant focused on acquiring smaller urban locations as well as mega stores.
As it's open every day till late, it's a safe pair of hands for groceries and basics for the large residential community south of Highgate but north of Kentish Town. There are a lot of great new independent shops on Swains Lane too, with a butcher, fishmonger, florist and baker coming along in recent times and strengthening the sense of community in the arcade.
Everyone who has worked hard to keep us fed and supplied during lockdown deserves recognition and a heart-felt thank you, and we take nothing away from the hard work these independents have been doing to keep this good atmosphere going during the pandemic, but when it comes to the individuals who have kept the groceries on the shelves and helped customers socially distance this past year, the staff at this particularly diminutive Tesco certainly had their hands full this past year.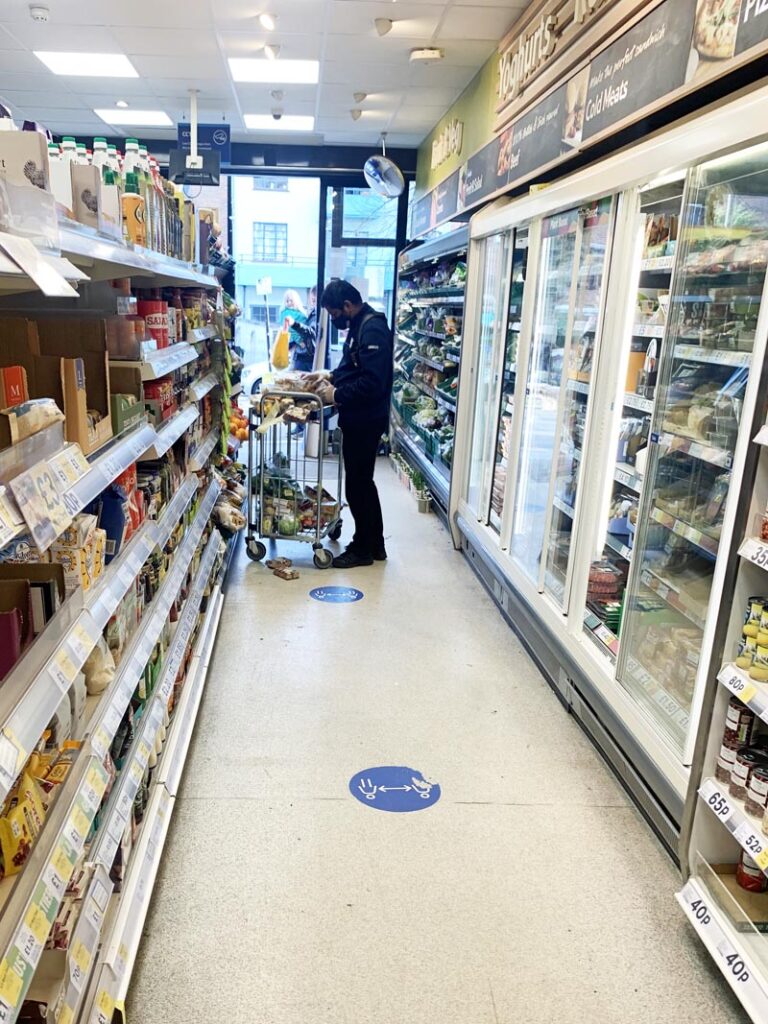 "There are about a dozen colleagues in my store who have worked tirelessly and around the clock to ensure we provide the best possible service to our community," says Kassim. Many of the staff live locally and most of them have been working here for years, he adds.
Kassim started out at Swains Lane as a Customer Assistant himself in 2017, before moving up through the ranks to now being the Store Manager. "I feel like Swains Lane will always be a special place for me as this is where I started my journey and worked my way to where I am now." 
Of course, Kassim had no idea what was in store for him when he took over as manager from Ali Yusuf back in March 2020: "I started the top job just as we were heading into the lockdown, which has been challenging!" he laughs. "But it's very special to lead such a dedicated team. This is a close-knit community where we all know the majority of our regular customers. It's a residential area with four nearby schools and a large park (Hampstead Heath), so despite being a small branch, we're always very busy. It's definitely special."
With a lot of people coming through the doors, social distancing in a small space like a Tesco Express can be a challenge. "We had this sweet little child who obviously didn't understand the need to keep a distance from others and would approach them," he says. "I bought some treats and gave to the mother to give to her daughter as an incentive to keep distance," says Kassim, remembering the episode fondly – he too will become a father in a couple of months' time.
In addition to keeping local residents' cupboards stocked during the pandemic, the staff at the Dartmouth Park Express have also been lending a hand in the local community. "We donate surplus food from the store to local groups each day through the Community Food Connection," says Kassim – this is Tesco's national scheme for linking shops to local charities to ensure there is minimal food waste.
One of the local organisations who've benefited is the Holly Lodge Community Centre a few streets away: "We donate bakery food, bread, readymade meals, sandwiches and fruits and vegetables to the Holly Lodge. We have someone come by from there to pick food donations on a weekly basis," says Kassim. "At Christmas, we also handed out chocolate boxes on behalf of Tesco. We especially felt it was important to keep the Christmas spirit alive during this testing time for the elderly in our community who were isolating."
Dartmouth Park community groups also benefit from the Bags of Help scheme, another Tesco-wide initiative for funding local projects. Not all of these recipients are public, but past beneficiaries local to Swains Lane Tesco include the Eleanor Palmer Primary School, which funded a wildlife garden, and Kentish Town City Farm, which created a social and therapeutic gardening project.
"During the pandemic, Swains Lane has supported our fellow commercial neighbours too," says Kassim. "I hope we can continue with more of the same and keep making our friends and customers smile."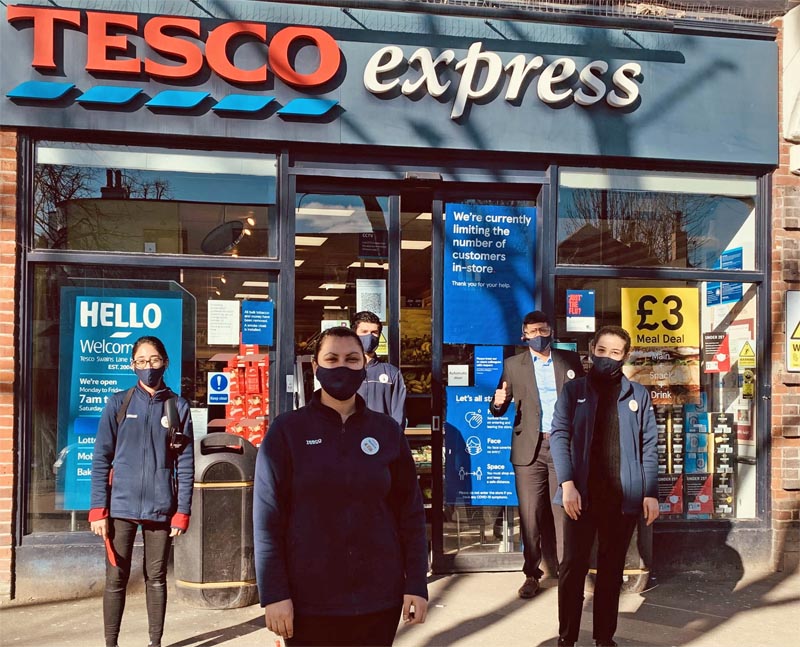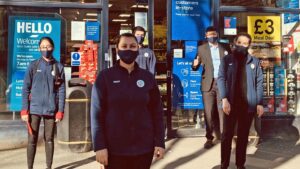 How the hard work and long hours by the staff was truly appreciated by locals during the pandemic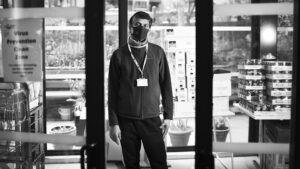 Abul Choudhury tells us how the charity managed lockdown for Camden's most vulnerable, from food parcels to vaccinations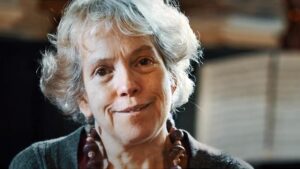 When she saw media reports of women losing jobs and homes as a result of the Covid shutdown,