This week's Highlights
Win VIP tickets to Peaky Blinders: The Rise
Planning a last-minute Christmas night out, an imaginative present, or looking ahead to next year? This week we've been hearing from the people bringing hit TV show Peaky Blinders to life – and celebrating Camden Town's amazing industrial heritage at the same time. Find out about the challenges of running a fully immersive experience in an iconic Grade II-listed building, then enter our Instagram competition to win 2 x VIP tickets (worth £179) to the event 😁 Win the tickets here.
DISCOUNT CODE
Use the promo code CAMD10 to get £10 off General Admission tickets for any performance (excluding Saturdays) at the online box office.  

Live music stage and a floating garden
We've fallen overboard for Camden's boating community this week, including hearing all sorts of exciting things from the founders of the Floating Garden, the new educational and community gardening project, set aboard a canal boat moored up at King's Cross. We're also currently their neighbours at the Granary Square steps, at our very own Camdenist Live open mic boat, the Molly Anna, which plays host tomorrow from 3pm to a free programme of live music, comedy and some Christmas carols, courtesy of the Autistic Adult Choir (6pm). And if you are a touch smitten by the idea of a life on the water, even at this icy time of year, you'll enjoy this new 30-second interview with a local who is living that often wobbly houseboat dream.   

New taproom opens on the canalside
In further news from Camden's beloved waterways, the brand new 3 Locks Brewery has just opened under the historic railway arches at Hawley Wharf. It's a beautiful airy space with views across the water – an enviable location between the three Camden Locks, which lend it it's name. There's a full on-site brewery plant, a taproom with 10 different beers to try, a beer hall, shop and a multi purpose events space. Look out for news of tastings, tours, brewing classes and pop up art shows.
DECEMBER OFFER
To celebrate the launch of the neighborhood's newest taproom, just mention 'CAMDENIST' for an amazing 30% OFF any of the 3 Locks beers until the end of the year. Cheers! 🍻 
 
Help design the Camden Green Loop
Camden Green Loop is an emerging plan to make sense of the Camden Town, King's Cross and Euston neighbourhoods as joined-up, accessible destinations for all, full of unique experiences. Organisers Camden Town Unlimited are looking for people who are passionate about this borough, and have lived experience of its public spaces, to help craft how best to approach and support the Loop's arts and culture scene. That includes the culture programming of the proposed Camden Highline. Participants are asked to join one half day workshop in January. All resident or voluntary participants are paid London Living Wage for their time, plus expenses. No experience is necessary. Interested? Here's where to find out more and sign up.   


listings in association with

This week's pick of live local gigs
Every Friday we highlight five upcoming gigs from the wealth of music events happening in the neighbourhood. All still have tickets available, but you might need to be quick. Discover
ALL
the gigs across Camden (and the rest of London) by browsing the listings at 
Halibuts.com
. 
 FUNK, SOUL ⏩ SOUL II SOUL at Roundhouse (pictured above)
Soul II Soul, the collective behind UK chart-topper 'Back To Life', are bringing their legendary Camden-born beats to the Roundhouse for a night of local funk and soul.   Fri 16 Dec
METAL, ROCK ⏩ SNUFF FEST 22 at The Black Heart
An international line up including Austria's Darkfall and Mutilated Judge from Spain, alongside UK acts like All Consumed and Nganga.   Sat 17 Dec

FOLK ⏩ THE RAPPAREES at The London Irish Centre
Looking for something festive to feast your ears on? This lively homage to the music of The Pogues from an 11 piece band might just be it.   Sun 18 Dec

OPEN MIC ⏩ LIVE ONES at The Camden Club
This special open mic session includes live performances from a range of genres including hiphop, garage, grime, reggae, R&B and more.   Mon 19 Dec

NEO-SOUL ⏩ A NIGHT OF NEO-SOUL at The Jazz Cafe
The live band performs a medley of classics including Erykah Badu, Jill Scott and Lauryn Hill.   Mon 19 Dec   

&ALSO… 
Vegan Caribbean experts Jam Delish, who we're previously featured with their popular pop-up kitchen at Soho's Sun & 13 Cantons, are growing up and launching their very own restaurant. It opens today just up the road, in Angel, offering a vegan cocktail bar alongside the excellent plant-based island foods. >>> Chalk Farm's big rooftop bar The Lucky Club are ready to start your New Years Eve celebrations early, with an all-day disco warm-up event running from midday-7pm on NYE, complete with glitter margaritas, a Mexican brunch and DJs. It's free, but book a spot now before they go. >>> South End Green's historic fairground comes alive from this weekend until Jan 3rd with the Hampstead Heath Christmas Faye, with a festive market, trees for sale plus food and drink alongside the rides for children. >>> Kentish Town Neighbourhood Forum's short film festival has extended the closing date for submissions, with local screenings and prizes now being given in the spring.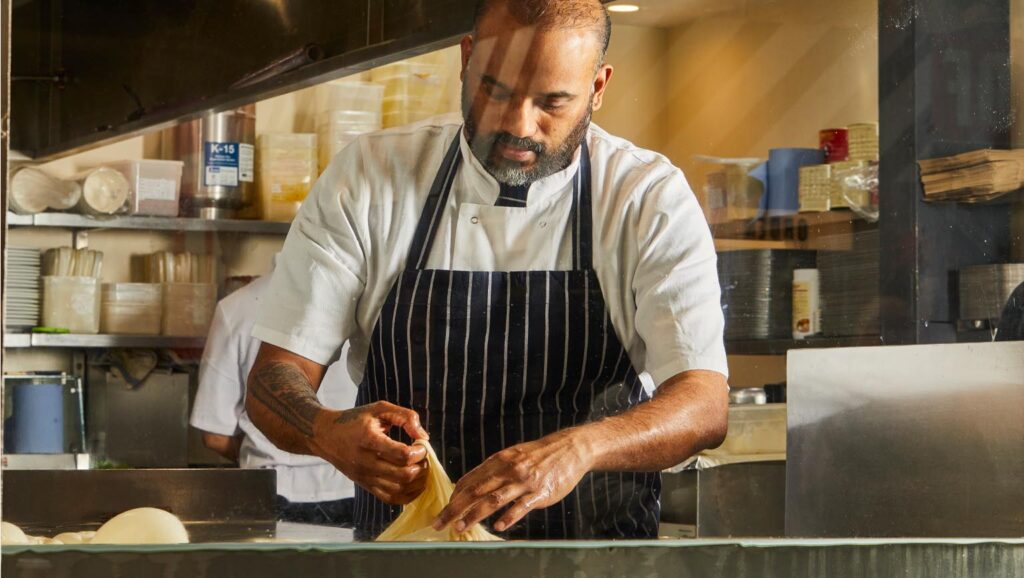 An unexpected enclave of global flavours in a neighbourhood that offers plenty more than the famous railway terminus