This week's Highlights
First pics inside Patron Next Door
Update 30th Sept: Kentish Town's famous French bistro, Patron, has knocked through into the neighbouring shop and discovered original tiles, a garden and plenty more, all of which opened this week as Patron Next Door. We took some exclusive photos showcasing what you can expect including a backroom speakeasy for late-night cocktails (above) and a full heads-up on all their plans.
The dark underbelly of the gig economy revealed
A whole range of colourful upstart brands offering rapid delivery grocery services have filled our streets with riders on speedy bikes ever since the pandemic. They are heavily funded, but offer little more than the questionable attraction of not having to walk a couple of minutes to the local shop. Competition is fierce, and as this anonymous insider tale reveals, the cracks are beginning to show. Read the full whistleblower story here.
PARTNER CONTENT
Walk Camden's Highline & Green Loop
Camdenist has teamed up with Go Jauntly, the award-winning free walking, wayfinding and nature connection app, as part of our ongoing Journeys series. We've hit the streets and put together a selection of local jaunts that reveal loads of Camden's curious surprises, (even for long-term locals) while promoting walking, mobility and outdoor urban adventures. The first walk has just gone live and leads you beneath the railway bridges that will one day host proposed aerial park, Camden Highline. We then uncover loads more secret green spaces through Euston and beyond, all just part of the new Camden Green Loop. Download the GoJauntly app for free on iOS or Android.
New video: Rochester Square's secret garden & pottery studio
Join us for an inside look at Rochester Square, where urban crop farming meets clay pottery-making over a hearty community dinner. Owner Francesca Anfossi welcomes us into her studio and explains what's to be found at this calming oasis in the centre of busy Camden. It's the follow-up to the recent story that readers of free print magazine Camdenist Presents Grow will have enjoyed, so don't miss it.
Camdenist launches new local weekly listings 
SUPPORTING LIVE MUSIC
Camdenist is pleased to announce a brand new regular listings service for you, right here every Friday. Each week we'll highlight five upcoming gigs from the wealth of live music happening in the neighbourhood. All will still have tickets available, but you may need to be quick. You can also discover
ALL
the gigs going on across Camden and the rest of London by browsing the excellent new 
free listings service Halibuts.com
. We're happy to support their mission to offer the kind of comprehensive music guide that's pretty much not existed since the days of paid print editions of Time Out. Venues need our support this winter like never before, so check it out…and then go out!
FOLK 
DIANA JONES at The Green Note
An afternoon fundraiser to help the venue in recovering financially from the pandemic, with special guests. / Sun 2 Oct
ROCK
 CAMDEN ROCKS ALL-DAYER at Fiddlers Elbow
Noah & The Loners, Opensight, Minerva, Maxdmyz, Thunderous Jones, Scarsun, Menaura, I Fight Bears & Cherokee Redmex.  / Sun 2 Oct  
POP 
 GRACEY at Lafayette (pictured above)
The BRIT-Award nominated singer-songwriter performs live in King's Cross. / Mon 3 Oct
LATIN
 OMAR RIOS & KATERINE ESPINAL at Pizza Express Live Holborn
The Nicaraguan guitarist and pianist come together to play folkloric classical music from their roots. / Mon 3 Oct  
JAZZ 
 JAMES TAYLOR QUARTET at The Jazz Café
Funk-fueled acid jazz from the veteran British four-piece. / Mon 3 & Tues 4 Oct 
& also
It's finally time for HowTheLightGetsIn at Kenwood House this weekend, after postponement due to the Queen's funeral. Read all the Camdenist interviews with musicians, thinkers and the founder of the 2-day event, including your final chance to get tickets at 20% off >>> Every Saturday for the next five weeks, the Electric Ballroom plays host to Camden Oktoberfest, with traditional beer hall tables, loads of Bratwurust and schnitzel, Lederhosen, games and live music and DJs  >>> CBC Culture Fest 2022 brings DJs, live acts, dancers and food n' drinks to Inverness St on Saturday as part of the Camden Together series, and hosted by Netflix star Yetunde Oduwole. It's free to enjoy from midday to 6pm >>> Our friends at Islington's excellent ethical produce store Nourished Communities have opened a Camden branch inside the large ground floor space at York Way's innovation hub The Mills Fabrica. Drop by for a coffee, and grab some home grown veg, British cheese, fresh breads and loads more good stuff.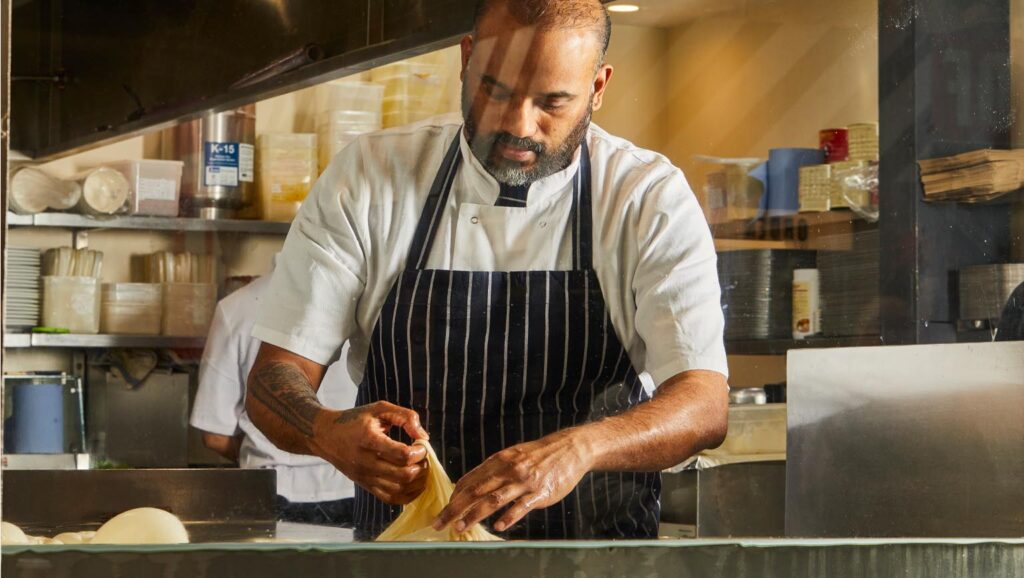 An unexpected enclave of global flavours in a neighbourhood that offers plenty more than the famous railway terminus