This week's Highlights
Coming up this week in King's Cross
Weekly update 9th Dec: We'll soon be warming the Christmas cockles of visitors to the festive markets at King's Cross (more on those below) in association with our neighbours Google, as Camdenist Live arrives at Granary Square beginning this Thursday (15th). We'll be hosting pop-up performances from a floating stage aboard a canal boat moored at the famous steps, featuring loads of local talent including musicians, comedians, carol singers and other artists. Look out for more details of the show times via @camdenist social channels as they are subject to the weather, then do come down and join us. And if you'd like a chance to busk at one of the events yourself, there's still time – find out more and fill in this form.  

Stereo comes to Covent Garden
London gets an exciting new nightlife and food destination today, with the opening of Stereo in the heart of Covent Garden. Billed as offering 'a heady mix of music, cocktails and dining,' it's in the trusted hands of Experimental Group, who know a thing or two about decent drinking dens, with food by Acme Fire Cult chef Andrew Clarke. It's taken over the former home of the infamous Roadhouse, and marks a welcome return for live music, DJs and late night drinking to the historic Piazza after years of depressing venue closures.   

Discover the rehabilitation rappers
Only Connect is a charity based in a Grade II-listed listed former chapel in King's Cross, helping people coming out of prison to lead crime-free lives. We were there the other night for a special show of live music, rap, singing and more, all performed by graduates of their innovative courses. Find out more about what went on, the good they are doing and the beautiful co-working and events space that helps fund the work of the charity.  

Camden's high street crowdfunder
If you've got an idea for supporting and reinventing Camden's high streets as they're hit by the cost-of-living crisis, the relentless rise of the omnipresent Amazon, rent increases and all the other challenges, Camden Council want to help you make it happen. You've got until Wednesday (14th) to submit your idea via the Spacehive crowdfunding platform. If you are approved, you will be able to raise the money to turn the dream into reality. You'll be in good company too, following projects like Kentish Town Spot (pictured above) and Camdenist too, as we'll be announcing our own scheme for helping the high street – while giving locals some unique deals and social experiences – in the New Year…  
This week's pick of live local gigs
Every week we highlight five upcoming gigs from the wealth of music events happening in the neighbourhood. All still have tickets available, but you might need to be quick. Discover ALL the gigs across Camden (and the rest of London) by browsing the listings at Halibuts.com. 
ELECTRONIC, JAZZ 
 SEKITO RECORDS SHOWCASE at The Jazz Cafe (pictured above)
Jazz maestro Alfa Mist's imprint Sekito Records with their debut live showcase tonight. Rooted in Jazz, expect live performances, special guests and an expansion into UK Garage, Hip Hop and D'n'B.   Fri 9 Dec
REGGAE 
 CARIBBEAN CHRISTMAS w/ VOICE THE ARTIST at KOKO
Hailing from Trinidad and Tobago, Aaron 'Voice' St Louis, is the youngest-ever International Soca Monarch King. Catch the King at KOKO for a Caribbean Christmas bash.   Sun 11 Dec    
HIP HOP 
 JOEY BADA$$ at Roundhouse
One of the most prominent artists to rise out of 2010s rap following his infamous solo debut album 1999, the East Coast rapper is coming to Roundhouse this week.   Tues 13 Dec  

OPERA, POP 
 THE MASSIVE VIOLINS at Cecil Sharp House
London's famous seven-piece all-singing, all-cello-playing band are coming to Camden with pop classics, festive favourites and possibly an aria or two.   Wed 14 Dec    
FOLK 
 THE LOUCHE PLAYERS at Louche Soho
What started as a three-piece Irish ballad group travelling the country singing and collecting songs has expanded to a lively seven-piece including an accordion and tin whistle.    Thurs 15 Dec   
& ALSO… 
Make sure to fill yer boots in NW5 tomorrow, as excellent local bakery Kossoffs have teamed up with their fave other local London bakers to host a tasty Christmas Biscuit Bonanza from 4pm, all in aid of the Trussell Trust. >>> Pick of the Xmas markets this week include the big one at West Hampstead, taking over West End Green all day tomorrow.  >>> Over 100 traders will grace the return of the Crafty Fox Christmas Market indoors in front of Central St Martins in KX on Sunday. >>> Camden Clear Air Initiative dished out their annual Eco Champions Awards at the weekend, honouring locals of all ages who have helped make the borough cleaner and greener this year. >>> Camden Music Club have released two locally-inspired new albums, the debut #Hawley Road' now followed with 'Kentish Town'.  >>> If you didn't make it along to Live at the HEX at Acland Burghley School the other day, you can enjoy the lively full 3-hour stream of the concert on Youtube.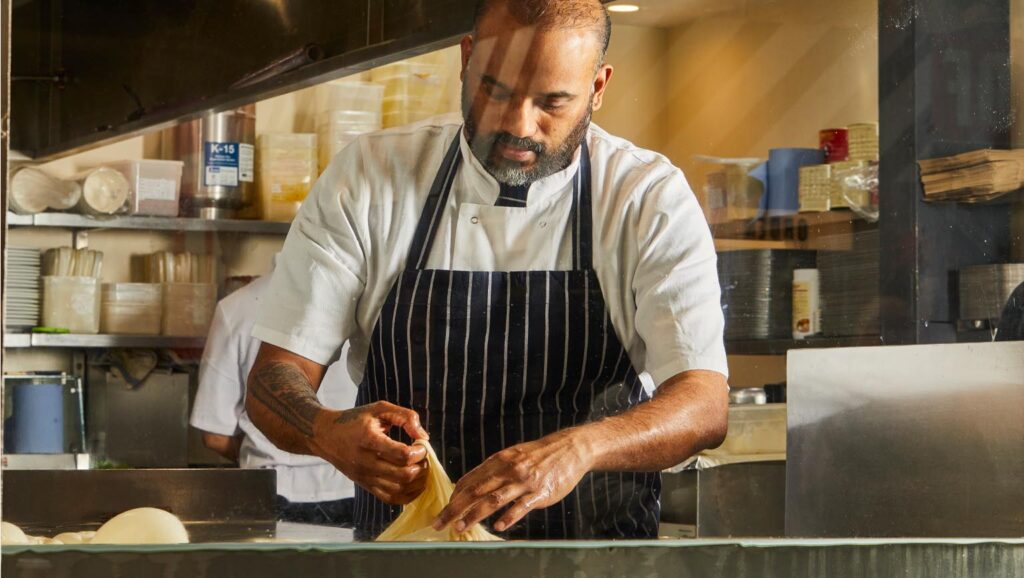 An unexpected enclave of global flavours in a neighbourhood that offers plenty more than the famous railway terminus