This Week's Highlights
Discover 26 rooftop terrace bars
Yes, it's H.O.T. But rather than bang on about the bleedin' obvious, we'll just leave you with this timely, fully updated guide to the best rooftop watering holes for a cooling sundowner, a listing of no less than 26 venues right across the Borough. Alongside the recently launched Lucky Club (pictured) perched atop Chalk Farm's historic horse hospital, comes the new Glasshouse at the NYX, just opened on the 10th floor of Holborn's NYX Hotel. It has enviable views of London, creative drinks and a retractable roof (not that you'll need it this weekend). Booking ahead is, as you can imagine, pretty much essential.  
⏬ Read on for where you'll find free ice cream over this scorching weekend, too… ⏬
This week's big local outdoors fiestas
Across Saturday and Sunday, Camden Square come alive to jazz, poetry, dance, live bands, sports, stalls and activities at the Camden New Town Community Festival. It's a much-loved occasion for locals to get together and celebrate where we all live. Meanwhile down at Coram's Fields in Bloomsbury on Sunday, it's the 30th anniversary of Camden Mela. This is where the borough's sizeable Bangladeshi and South Asian community pulls out all the stops and throws a massive family-friendly bonanza of live music, performances, arts and crafts bazaars, tasty food stalls and a funfair.
Last chance to win 4 x complete festival tickets to Campo Sancho (just an hour's drive away) 29-31 July. Visit @camdenist Instagram 🥳  
Hampstead Heath summer days and nights
The Heath has a real smorgasbord of events on this weekend, including tonight's annual free bash at the bandstand courtesy of iconic local DJ troupe Dig It Soundsystem (pictured). It's always a summer highlight of the Camden calendar, and there's a cheeky after-party at the nearby Dartmouth Arms, too 🥳. Then on Sunday afternoon back at the bandstand, the music will be more sedate while you can try out free activities at Give it a Go, the celebration of physical and mental wellbeing. Try sports such as rugby, fencing, tennis and athletics and seated activities like singing bowls if that's all too sweaty. The hot weather has sadly scuppered plans for the Great Hampstead Bark Off, due to happen on the adjacent cricket field, so keep Fido happy under the shade instead. And up at Kenwood, there are a few remaining tickets for al fresco movie theatre Luna Cinema running all weekend, including a showing of The Devil Wears Prada on Sunday evening.  
Kentish Town Spot exhibition in shop windows
Innovative WhatsApp-based local listings service Kentish Town Spot ran a successful crowdfunding campaign as part of the Council's Love Your Camden High Streets fund. The result is an exhibition that's available to see for the next three months in windows across NW5, including the likes of Simply Fine Foods (pictured), The Fields Beneath café, plus Bread By Bike and SKK Lighting on Brecknock Rd. The striking portraits of shop owners were taken by Karishma Puri, (who we wrote about last year when her Isolating Together photos also went up around the neighbourhood) and are accompanied by QR codes that lead to full interviews on the KT Spot website. The idea is to support the high street by giving people a reason to shop locally and to learn more about their community. Read more about it and join the WhatsApp group via the full story over on Kentishtowner.
Here's where you can find all the Town Spot Presents window locations:
Babuji 343 Kentish Town Rd, NW5 2TJ
Bengal Lancer 253 Kentish Town Rd, NW5 2JT
Bread By Bike 30 Brecknock Rd, N7 0DD
Cafe Palestina 53 Fortess Rd,  NW5 1AD
Caliendo's Gelato 182 Kentish Town Rd,  NW5 2AE
The Fields Beneath 52a Prince of Wales Rd, NW5 3LN
George's Barber Room 324 Kentish Town Rd, NW5 2TH
Giotto 180 Kentish Town Rd, NW5 2AE
Kentish Town Stores 230A Kentish Town Rd, NW5 2AB
MAP Studio Cafe 46 Grafton Rd, NW5 3DU
Matthew James Estate Agents 43-45 Fortess Rd, NW5 1AD
Morgan's Stationery 231 Kentish Town Rd, NW5 2JT
Oxford Tavern 256 Kentish Town Rd, NW5 2AA
Phoenicia Food Hall 192 Kentish Town Rd, NW5 2AE
Rose and Crown 71-73 Torriano Ave, NW5 2SG
SKK Lighting 39 Brecknock Rd, N7 0BT
Supreme Doner Kebab 315 Kentish Town Rd, NW5 2TJ

Beyond + Between season at Roundhouse
The big summer show in the main space at Chalk Farm's Roundhouse opens tonight. Jean Paul Gaultier Fashion Freak Show celebrates the life of one of fashion's most infamous characters, and forms the centerpiece of the wider Beyond + Between season, a lively programme of events, workshops and installations exploring queer identity, nightlife, fashion, body image and pop culture. Highlights include Trans Voices performing a vocal soundbath in the intimate Dorfman Hub (under the main auditorium) this Sunday evening, and Queefy Careret (pictured) now booking for August. Tickets for the big JPG show are here, along with a Spotify playlist of suitably fabulous/iconic anthems.    
Also this week
To celebrate their new compostable coffee pods, Caravan Coffee Roasters are teaming up with gelato artisans La Gelatiera to offer free affogato ice creams from a pop-up near the big swing beside King's Cross Station all weekend.  >>> Rapper Niki Minaj caused a litteral road block this week with an ill-fated meet and greet at Café KOKO and you can see the chaotic video here >>> Fiery tacos, decadent quesadillas and punchy tequila cocktails are promised on the terrace at Holborn's Rosewood Hotel over the coming weeks at Mexican pop-up La Veranda By Patron. >>>  Masses of markets again this weekend at King's Cross, including the Illustrators Fair inside the Granary Building on Sat, while the Independent Label Market serves up vinyl rarities for music lovers at Coal Drops Yard, and Sunday sees Crafty Fox Market bring the UKs best designer-makers to Granary Square.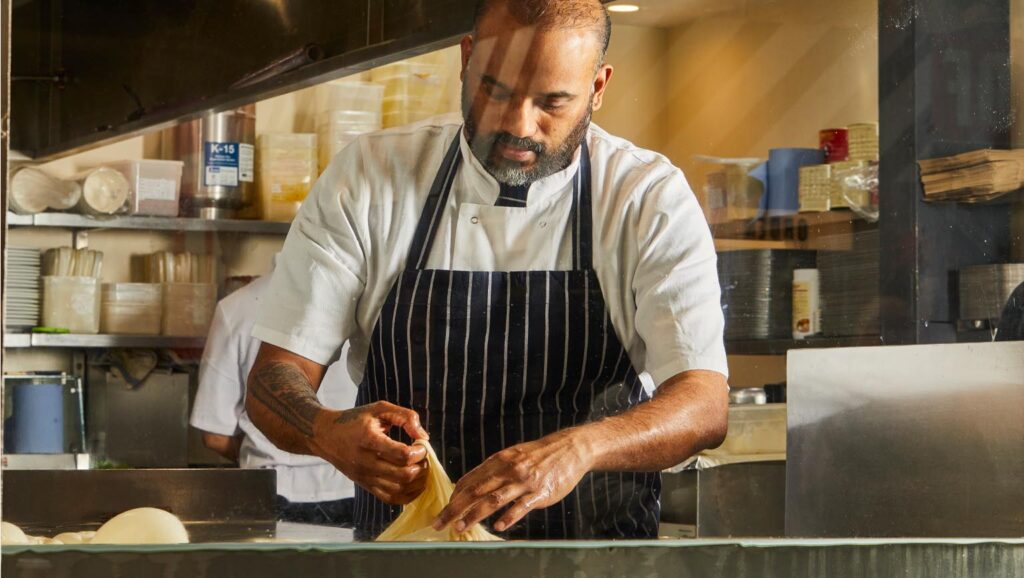 An unexpected enclave of global flavours in a neighbourhood that offers plenty more than the famous railway terminus