This Week's Highlights
Future Cargo leads 12 days of shows in KX

A 40ft haulage truck rolls into Lewis Cubitt Square next week, and when the side goes up, audiences will be treated to an alien dance spectacle beaming out under the stars. Future Cargo is the hot ticket summer show from world renowned Euston-based contemporary dance centre The Place, and it promises to blow you away with captivating sci-fi storytelling. It's the centerpiece of King's Cross Summer Sounds, the new name for the former excellent Cubitt Sessions, featuring free live performances every day, from 10th to 21st August. Check out the mesmerising Future Cargo video as part of the interview feature all about the show that we ran this week on Camdenist, too.
Hampstead sees loads of restaurant openings

The foodie fortunes of Hampstead are really looking up, with a rash of tasty new openings and imminent arrivals across the village. First out of the blocks is Heath Street Kitchen, where the former Aeon Gallery has been reborn as a restaurant (but, as you can see pictured above, the walls will still be showcasing artworks, too). Dishes like marinated bavette steak or Korean fried chicken can be enjoyed there, washed down with local craft beers from Wood Green's The Goodness. Meanwhile, top notch Italian bakery Café Brera are preparing to bring all-day cakes and pastries, plus pasta, pizza and aperitivo to the main drag of the high street very soon. And just down the hill, the site that has sat dark ever since Chez Bob closed – never to return from lockdown – is busy transforming into the new outpost for Primrose Hill's celebrated all-day diner Greenbury Café. More info on those three and more, coming soon in future editions of your Weekly C-Mail, 7.45am every Friday morning. 😉 🍰
The Cross nightclub is reopening

Earlier this week, Camdenist was given a sneak peek tour of The Cross, the legendary London being brought back to life in an exciting new location just around the corner from the railway arches where it ruled in the nineties and noughties. The new spot has a thoroughly up-to-date 'drink, dine, dance' vibe set across six floors including basement club, various restaurants, bars and lounges and a great rooftop too. Get the low-down on the launch, including all the classic fixtures and fittings from the original venue that have been brought out of storage and repurposed. It's already promising to be a huge new addition to the local nightlife landscape when it opens early next month.
This weekend's free local street parties

The calendar of free summer events just keeps on delivering, including Regent's Park Estate Community Festival this Saturday, which sees the streets around Cumberland Market filled with music, storytelling, wellness, arts and even a free BBQ lunch! Find out about it all here. Up at Castlehaven, you'll find the Futsal Stars Community Fun Day, celebrating England's win in the Women's Euros final last weekend with an opportunity to play with the Futsal Allstars, as well as fun activities for kids, food stalls and more. And down in the West End, Carnaby Summer Festival start on Monday and runs until the 21st (pictured). Alongside live music, it brings free outdoor workshops and interactive masterclasses in pottery, candle-making, life drawing and even gardening. Full listing here.
Discover the best acts at this year's festival

Following on from the popular service where we let Camden Fringe performers leave us a voicemail explaining why their show is a must see (over 50 messages now available to listen to, and counting!), we've been speaking to a selection of these talented individuals about their work in more detail. Ahead of hitting the stage, we've heard from podcast host and stand-up Kate-Lois Elliott (pictured) on her show Gentrif*cked, that's on at Camden Comedy Club tonight at 7.30pm. Erin B. Mee, artistic director of This Is Not A Theatre Company tells us about their three downloadable immersive audio plays to enjoy by a tree, in a closet or in the bath, and Rev. David Parry on his transsexual Shakespearian adventure The Grammar of Witchcraft, which is on at the Etcetera Theatre 9-13 Aug. Camden Fringe continues all month, bringing a slice of Edinburgh to our very doorsteps, so do check out some shows.
& also
Camden Town's huge musical instrument emporium Guitar Guitar has a big relaunch event running today and all weekend, celebrating their new layout, dedicated bass department and London's most extensive range, with discounts and prizes to be won every day >>> Wave is a summer fundraising exhibition for the Women + Health charity that's just opened at the Cob Gallery. It showcases the work of several female and non-binary artists, supported by the gallery and the nearby Zabludowicz Collection >>> Viet Populaire was a wildly popular pop-up in Soho serving crunchy banh mi rolls and assorted Hanoi streetfood staples for a short six-week run earlier this year. The good news is that's its just emerged again inside the Arcade Food Hall under Centrepoint, promising even more tasty Vietnamese grub for the foreseeable >>> Camden's Electric Ballroom was the scene of a special Lioness lyrics rendition of Football's Coming Home on the even of the England Women's team's sensational Euros victory. As you can see in the full video, The Lightening Seeds were joined on stage by the song's local co-writer, David Baddiel, and former Lionesses for a proper rousing sing-song at an event sponsored by the National Lottery as part of the Revive Live tour.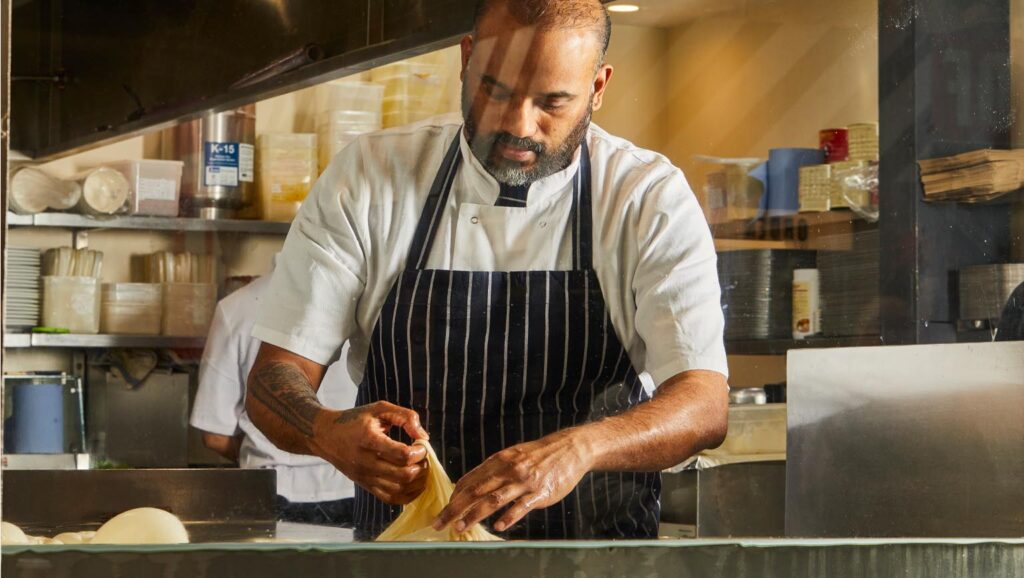 An unexpected enclave of global flavours in a neighbourhood that offers plenty more than the famous railway terminus