This week's Highlights
Three new local places to try
After 20 years of buying, producing, selling and judging wine across Australia, Europe and the UK (including for Michelin-starred restaurant group St. JOHN), Victoria Sharples has opened her own wine bar at Parliament Hill. Swains Wine Bar & Store has a large central bar, made intimate by warm wall colours and candles flickering in empty wine bottles. The emphasis is on 'proper wine and proper food', a promise well kept. We recommend the eggplant chips and leave the rest in Victoria's knowledgable hands. Berberè Pizzeria has opened this week on Kentish Town Rd – a hot Italian import from brothers Matteo and Salvatore. Their pizza is made with living sourdough (which apparently aids digestion), and they also serve montanarine deep-fried dough balls with four different toppings to try. Nearby, at MAP Studio Café next Friday (Nov 25th) very Southern affair, Blue Plate Special Supper Club, are hosting their soul food feast with accompaniment from Camden's country, folk 'n bluegrass band The Handlers. There'll even be apple pie moonshine for braver guests. 
Fix up, look sharp
Got an old toaster snoring gently in the back of a cupboard? Or an iPad on its last legs? The Fixing Factory has opened on Queen's Crescent with the aim of tackling e-waste, whilst also teaching you how to fix your own gadgets. Keep an eye out for their regular repair workshops. Meanwhile, tucked away in King's Cross Story Garden (between The Crick and The British Library, Your Bike Project is a social enterprise providing free bikes, cycle maintenance and up-cycling for local young people. Read the full conversation with owner and Somers Town local Raqhib Islam in this week's interview.
Four free events + exhibitions
Next Thursday evening (24th), head to Zabludowicz Collection for a special after-hours viewing of their current exhibitions, introduced by the curators and accompanied by a live ambient mix from artist and DJ Nanzhen Yang. Over on Camden High Street, Bitter Sweet is the new exhibition from Jeru Kinnaird and Leo Sweron, currently at Camden Open Air Gallery showcasing their vibrant drawings and paintings. In the King's Cross area, you'll notice several large scale photos dotted around, including at Pancras Square, where there are striking portraits of young people who are giving back to their communities. The Gifted exhibition is a project from Global Generation and Fish Tank with photos by Jonathan Donovan. Then on Lower Stable Street, The Museum of Youth Culture have launched their Grown Up In Britain outdoor exhibition, featuring photos that explore the colourful cultural history of the nation's youth.
Why we should all reach for new heights
Local climber Toby Barker waxes vertical about the virtues of climbing as part of our ongoing editorial season exploring Journeys in their many forms. He tells us why we should all consider looking up, and where to go to get started. The accompanying artwork is by North London artist and climber Amelia Francis-Johnson whose synaesthesia influences the use of colour in her work.
Support live music this week
Every Friday we highlight five upcoming gigs from the wealth of music events happening in the neighbourhood. All still have tickets available, but you might need to be quick. Discover ALL the gigs across Camden (and the rest of London) by browsing the listings at Halibuts.com. 
CLASSICAL ⏩ INBAL SEGEV at Cecil Sharp House
Arch Sinfonia's London celebration of the Taki Alsop Global Concert Series bring Fri 18 Nov
 JAZZ ⏩ EMMA RAWICZ at The Jazz Cafe
An exciting new name on the UK scene, the young saxophonist brings her original compositions to the stage tonight as part of the EFG London Jazz Festival. Fri 18 Nov
MIDDLE EASTERN ⏩ PEYMAN HEYDARIAN at Jamboree
A night of music from Iran and Syria featuring Arabic, Kurdish and Persian music from this santur virtuoso. Sun 20 Nov  
HIP HOP, R&B, FOLK, ELECTRONIC ⏩ SUDAN ARCHIVES at KOKO
Often labelled as Afrofuturist, the self-taught violinist, vocalist and producer engages with a broad range of genres and subverts the expectations of all of them. Wed 23 Nov 
OPERA ⏩ THE RAKE'S PROGRESS at The Royal Academy
Stravinsky and Auden wrote this opera whilst living as émigrés in the USA and drawing inspiration from William Hogarth's engravings. The music juxtaposes Baroque and Classical influences with themes from the 20th Century. Tues-Fri, 22-25 Nov
& Also 
Kentish Town's Oxford Tavern has been dark for a few weeks, causing its entire ESG London Jazz Festival programme to relocate, but the exciting news is that the pub is being taken over by Columbo Group, owners of many of Camden's best music venues including The Jazz Café. >>> In further pub/pizza news, Peckham's 081 Pizzeria has landed at The Colonel Fawcett, and they're doing some 50% off offers on signature pizzas and Napoli tapas to celebrate. >>> Whether you love or loathe Camden's 'streateries', the Council is inviting you make your opinion on their future known, ahead of some key decisions. Have your say on the issue here.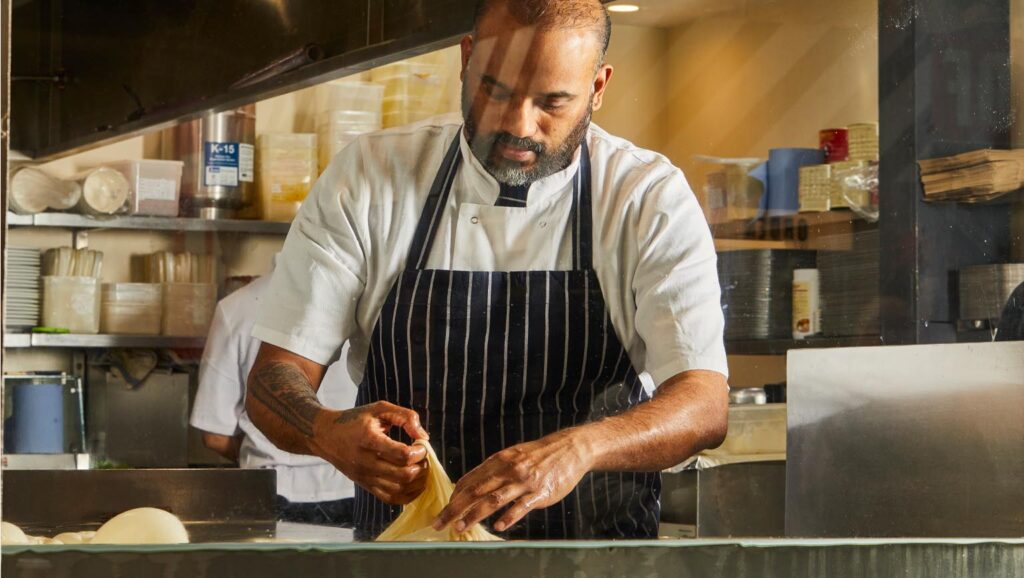 An unexpected enclave of global flavours in a neighbourhood that offers plenty more than the famous railway terminus