This week's Highlights

New places and some lower prices
Three recommendations for you this week, starting with new artisanal pasta restaurant / workshop Officina 00, just opened on Fitzrovia's Whitfield St. Go for rich, seasonal, regional Italian pasta, or sign up for a practical pasta-making class, with workshops for all levels. Over in King's Cross, Babel Beerhouse has taken over the microbrewery formerly run by Aussie crew Little Creatures. The food menu is similar burgers and small plates, with Magic Rock and Fourpure now on the taps, and the return of in-house brewing promised soon. And a genuine ray of sunshine in a dark cost-of-living-crisis winter came this week, as Coal Drops Yard sarni specialists Sons + Daughters announced in this interview with Eater) they're dropping the price of their sandwiches to £6.50 across the board, after they'd crept up to an kinda-unmanageable £11. Ingredients remain the same, but sizes are reduced. We wonder if others will follow suit, and what menu modifications they'll need to make it all add up…
Something special on York Way
Cool architectural practice Piercy & Company are behind an exciting, totally free exhibition, housed in an abandoned office block on York Way – just opposite King's Cross mainline station. Supermodels features eight moving or animated architectural ideas, all of which come 'alive' through film, sound, movement and light, as you engage with them, ideally with enthusiastic childlike abandon. It's really rather beautiful, so get stuck in now, as the whole thing is only there until next Sunday (11th).
How to scratch beneath the surface this Xmas
There are loads of very glam Christmas markets on 'round these parts, and you're sure to find a stocking filler or two at all of them. Meanwhile, make sure to head a little off piste this festive season too, including to the brilliantly re-landscaped Camley Street Nature Reserve, who are holding London Wildlife Trust's very first Christmas Market over the next three weekends, including wreath-making, tea blending, a drag bingo ball and children's crafts and winter wildlife themed workshops. Tonight also sees Clarence Gardens by Regent's Park hosting Community Champion's Illumination Market with loads of arts, crafts and things to eat, drink and do.

Notting Hill's The Gate moves to Camden
The Gate is one of London's off-West End pub theatre success stories, with over four decades of success putting on shows above the Prince Albert boozer in the heart of Notting Hill. They recently announced an exciting move over our way, to a new home base at the 120-seat Theatro Technis in Crowdale Rd. But then came a horrific 100% loss of their Arts Council funding, resulting in an ongoing appeal to save the Theatre, while also defiantly announcing a 2023 season yesterday. It kicks off early next year with three hot productions, Bootycandy (pictured), HOT IN HERE and Brassic FM, so make sure you support this trailblazing institution in its new home during the testing times ahead.
Support some live music this week
Every Friday we highlight five upcoming gigs from the wealth of music events happening in the neighbourhood. All still have tickets available, but you might need to be quick. Discover ALL the gigs across Camden (and the rest of London) by browsing the listings at Halibuts.com. 
ALTERNATIVE, INDIE, FOLK
 WANDERLAND at Green Note (pictured above)
Launching their second EP 'Songs, II' this indie folk band from London and North Yorkshire recorded their debut EP in an old mill next to a waterfall.   Fri 2 Dec
MOTOWN
 SIERRA BAND at The Jazz Cafe
The venue's house band celebrate one of the most important musical revolutions of the 20th century with tributes to Stevie Wonder, Marvin Gaye, Smokey Robinson and Diana Ross.   Sat 3 Dec
CLASSICAL 
 THE CONSONE QUARTET at Mill Hill Music Club
Formed at the Royal College of music, this is the first period quartet to be selected as BBC New Generation Artists. Sunday evening's programme includes Debussy and Schumann.   Sun 4 Dec  
WORLD MUSIC 
 AN EVENING OF ARGENTINIAN KLEZMER & POLISH TANGO SONG at Green Note
A vibrant programme of Polish tango songs and Argentinian klezmer performed by an ensemble with over a century's experience in world music and jazz. Songs will be shared along with stories the performers have uncovered about their creators.   Tues 6 Dec
POP, RAP, SOUL 
 ILUVLIVE SELECTS at Roundhouse
Part of Roundhouse Rising Presents, iluvlive have curated an exciting lineup of artists to featuring JERUB, Jada O'Neill, ELT Cheekz and Knox 38.   Thurs 8 Dec 
& ALSO…
Camden Market Hawley Wharf has tasty deals to help you through the Christmas shopping season – just sign up to their Happy Days promotion between now and Xmas to unlock daily food and drinks offers from 4.30pm-7pm, plus up to 30% off shopping, and keep it local. >>> Chalk Farm's latest coffee spot is the new branch of fast-growing Triple Two Coffee – and you can see what they're up to, including artworks, here. >>> The 'mesmerising' festive lights at Kenwood house are back from today. >>> Head over to the Dartmouth Arms tomorrow to catch the very-appropriately-named Winter of Our Disco Tent, which brings DJs Ben Osborne, Chris Coco, Neil Thornton and Steve Machin for a free local pub party, 6pm until midnight.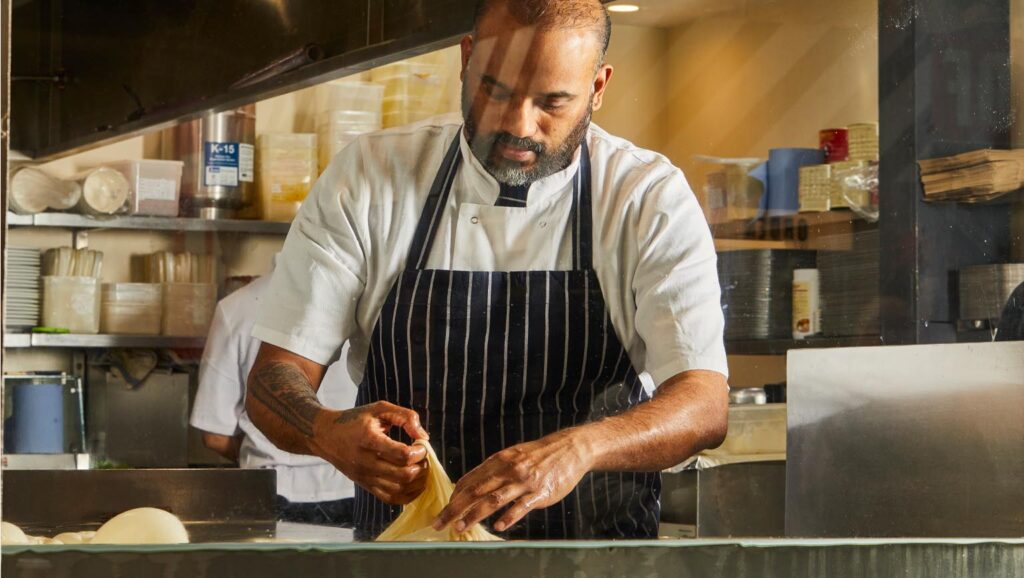 An unexpected enclave of global flavours in a neighbourhood that offers plenty more than the famous railway terminus