This week's Highlights
Eat to support Camden's high streets
We're kicking off 2023 with a big new campaign helping Camden's high streets to thrive, and in particular to support the many independent hospitality businesses currently experiencing such challenging times. As before, you get a brilliant meal out at a very reasonable price, and the opportunity to discover new restaurants with friends, places that we know you're going to love. Find out more about them all and the unexpectedly foodie neighbourhood of Euston, when the event will take place on Thursday 2nd February. Then make sure to book your places before they all go.   Book your Secret Feasts tickets now  

Ester Camden brings us top cocktails
An exciting arrival in Chalk Farm's North Yard, Ester launched a couple of weeks back with Bar Citral, a pop-up with Bombay Sapphire Premier Cru, including a Mediterranean supper club hosted by pop star turned food podcaster Jesse Ware. The new space is the brainchild of creative drinks agency Supernacular, a.k.a award-winning bartenders Cameron Attfield, Todd Austin and Jack Sotti, (who were recently behind the development of the nootropics cocktails at The Standard King's Cross bar, Sweeties). "We're incredibly excited to join the local Camden community offering up an elevated drinking experience," Sotti told us this week. "We have incredible produce-driven cocktails, craft beers and eclectic wines for drinking in, taking away, or ordering online. Our aim is to provide a warm and welcoming space for locals to come and treat themselves to un unforgettable evening out."  

January's local theatre and comedy
There's certainly no post-Christmas lull on the neighbourhood stages this week. Highlights include your last chance to catch the tragicomic family drama 
Sons of the Prophet
at
Hampstead Theatre
(pictured) until Sat 14th, or try the one-woman quest through time and space 
All This Must Pass
, running this weekend only at NW5's 
Lion & Unicorn Theatre
 above the eponymous pub. For belly laughs,
Camden Comedy Club
has an unbroken daily programme including Saturday's guaranteed kosher
Old Jewish Jokes
, Ivor Dembina's
Edinburgh Pick of the Fringe
award-winning five-star show. Meanwhile
2Northdown
in King's Cross also has an impressive calendar of shows – try their monthly new material night 
Mic Check
 this Tuesday, featuring loads of up-and-coming comedy talent.

Historic King's Cross 'Before the Change'
Do you want to see loads of lovely old photographs taken around industrial, crumbling King's Cross just before the whole redevelopment began in the early 90s? Of course you do. This extensive collection of historic shots by Peter Marshall has just been compiled by the Flashbak blog, depicting a now-lost era which they credit as "before the money moved in, when King's Cross was a place for born-and-bred locals, clubs and crime." If you remember that time, and even if you don't, it's an evocative collection.  



Pick of early January's live local gigs
Despite it being the quietest week of the year, there's still a lot going on out there on Camden's live music circuit, so head out and see to some of the hard-working acts in the top 5 highlights listed below. Discover
ALL
the gigs across Camden (and the rest of London) by browsing
Halibuts.com
. 
PUNK ⏩ SEX PISSED DOLLS at The Water Rats 
All female band playing edgy, high octane classic rock and punk mixed in with their own original material, with support from Georgia Crandon.   Fri 6 Jan
HITS ⏩ 50% OFF IN JANUARY at The Piano Works (pictured)
Tempting you out to Farringdon's live music spot all this month is the promise of 50% off per person (up to £100) on booked tables, plus the chance to request all your favourite tunes from the talented in-house pianists.   Fri 6 Jan

PUNK ⏩ THE COLVERHEARTS at The Black Heart
First UK appearance from this fresh Celtic punk band. Expect blaring bagpipe anthems and tin whistle ear worms, think Dropkick Murphys meets Green Day with an Australian twist.   Sat 7 Jan  

CLASSICAL ⏩ CHAOS QUARTET at Conway Hall
The Conway Hall début from this fast-rising string quartet will span two centuries, including early works by Mozart, Schubert's 'Death and the Maiden' and György Kurtág's 1989 quartet   Sun 8 Jan  
ALT / INDIE ⏩ THE LOCAL PRESENTS at Aces & Eights
The fortnightly live band showcase returns for 2023 to Tufnell Park's atmospheric basement dive bar. You'll have to turn up to find out who's on, but with nearly 20 years of promoting experience, The Local is a sure thing.   Thurs 12 Jan   

& ALSO
Word is that beloved-but-boarded-up local boozer The Constitution may finally be reopened this year by owners Young's Brewery, who have left a question mark hanging over the future of the pub since pre-lockdown. We'll be keeping an eye on things, as it was supposed to reopen in 2022, so anything may – or may not – happen yet. ⏩ Haku Kitchin is preparing to take over the currently rather forlorn former Fortess Rd home of Ruby Violet ice cream, who departed their Tufnell Park birthplace last year over rent rises (they're still to be found in Granary Square, thankfully). You may already be a fan of Haku's authentic Japanese dishes, as they've previously been among the residents at Inverness Street's Asian food hub, Thai Pan Alley. ⏩ Unfortunately the goats at Kentish Town City Farm aren't offering to eat residents Christmas trees this year, but don't be one of those people who chucks an unsightly pine needle obstacle out into the street, we've put a handy pop-up Open Data map on the camdenist.com homepage, featuring all the places across the the Borough you an take your tree for recycling, so it may have a useful reincarnation as chipping for muddy parts of Hampstead Heath.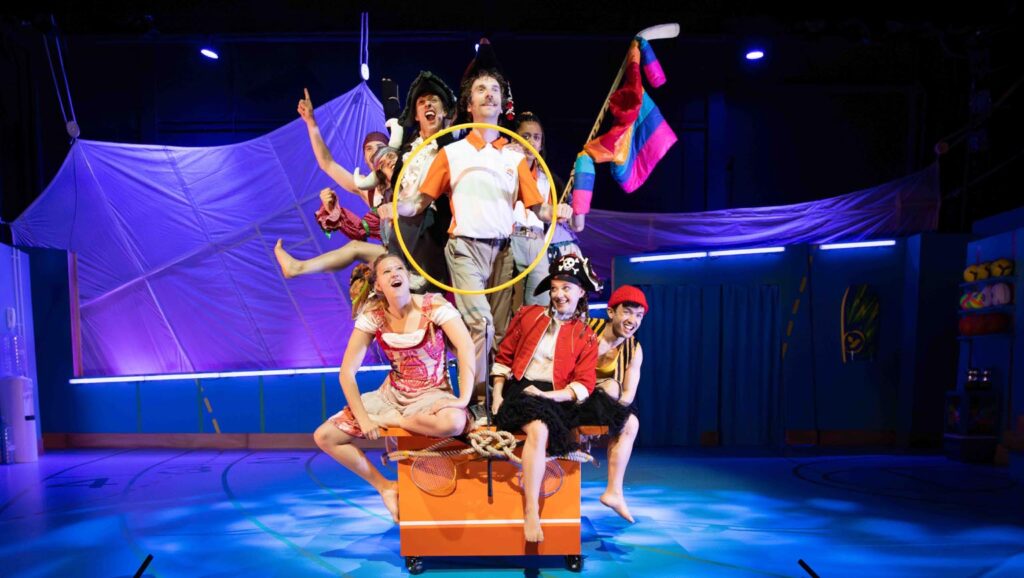 Scottish Dance Theatre are swashbuckling their way into Euston