This week's Highlights
Camden's own beaches, campsites & waterfronts
As the new reality of scorchio London summers is strangely feared and celebrated with equal gusto (see poll below), thank goodness the free beach is back at JW3, the Jewish arts centre in Swiss Cottage. This year, they've pun-tastically 'splashed out' on the biggest beach to date, with loads of deck chairs, a larger paddling pool, and regular activities for children 0-4, including singing, crafts and yoga. There's a beachfront café for food and refreshments too. No need to book, just turn up. Or head over to Two Tribes Campfire for a different kind of summer vibe with resident DJs and festival atmosphere to accompany plenty of great beers and flame-cooked BBQ food, every Thursday-Saturday. Alternatively, you may chose to cool off and lounge canal-side down the road in King's Cross. Everyman Presents Screen on the Canal continues to show the Tour De France daily (until 25th July), with evening screenings of films like The Greatest Showman, just across the water from the Granary Square steps.  


From good weed…to good deeds
The Camdenist GROW season continues, and if you've yet to pick up a free copy of the 32-page magazine, (currently to be found in venues across Camden), you'll find some great stories from the season now online. That includes our fascinating tale of two women of substance, busy farming organic cannabis and magic mushrooms for clandestine sale to in-the-know locals. Their views on the law and the future of these crops – for both health and hedonism – are well worth reading. Meanwhile, the good eggs at the Good Gym tell us about gathering up enthusiastic volunteers to take on community projects, large and small, providing a gym-worthy workout in the process. And did you know that every pound you spend in the shops and restaurants of St Pancras International station contributes towards funding vital environmental regeneration? Read all about Project Peatlands and the impressive efforts to rewild these vital carbon sinks.  

Outdoor fitness / indoor wellness
Exercising outdoors can really lift your spirits (especially when its disgusting-level sweltering inside). Take your yoga practice into the fresh air Yoga with Charli offers group sessions on Hampstead Heath on Weds, Thurs & Sundays. Or want more sizzle in your outdoor workout? Check in with Primrose Hill-based boot camp Primrose Hill based boot camp Fit For a Princess, which runs handy, drop-in sessions every Saturday. Just turn up and you'll find them warming up in front of the Primrose Calisthenics workout area. When you want to slow things down, there are a growing number of local opportunities for a de-stressing and recharging gong bath. Popular practitioner Fila Vitae Sound Journeys returns 26th July at the St Pancras Community Association centre on Plender St. Info and tickets here. Ahead of that, tomorrow night you can enjoy a gong bath by candlelight with Odette Kurland of London Gong and Sound Meditation at The Upper Room, in the heart of Camden Town.  

Two big foodie names open new Camden outposts
Two of the area's already long-established restaurants have opened exciting new branches in central Camden in the last few weeks. First up is the Riding House Café, whose Fitzrovia original has been a West End staple for over a decade. Their new branch can be found in the Brunswick Centre in the heart of Bloomsbury, offering a healthy high-quality brasserie menu (including the mechoui lamb, bulgur wheat, crispy chickpeas, coriander salsa pictured above), all in a rather fetching club-like setting. Meanwhile, around the corner in Lambs Conduit St, the beloved purveyors of Middle Eastern flavours, Honey & Co have upped sticks across from Warren St, with colourful sharing plates and cocktails from breakfast until last orders. Go for the summer sharing menu to try a little bit of almost everything.   

Small local venues making big sounds
Live music pops up in all kinds of places, including tonight at Sam's Café in Primrose Hill. They're hosting new folk-pop duo Burr Island alongside summertime burgers and beers. It's free but do book a table. If jazz is more your thing, there's something on every night this weekend, starting with a totally free evening featuring John Etheridge and Vimala at the bandstand by Parliament Hill Cafe tonight. Then tomorrow, Hampstead Jazz Club, at the Duke of Hamilton welcome back celebrated guitarist Cyro Brown and his Acoustic Soul Sessions with celebrated vocalist Geraldine Reid. Finally on Sunday, try the smooth sounds of the Alasdair Pennington Quartet upstairs at the MAP Cafe Sunday Jazz sessions. 🎷    
Also This Week
After a rash of shop closures, Chalk Farm Road's rollercoaster of fortune is on the up once more, with the imminent arrival of tasty-sounding smokehouse fusion joint The Korean Cowgirl and ambitious Middle Eastern franchise Operation Falafel. More on both of those soon. >>> The Outside Art Project is that collection of 24 concrete seats to be found scattered around King's Cross, each displaying photography and artworks for free to the public. The latest season opened yesterday, the Radical Imagination Exhibition, with unique portraits from seven very different female photographers, curated by The Photographers' Gallery. >>> Or if reality is getting too much this week, you can step into a whole new world at DNA VR on York Way, a cutting edge arcade that uses the latest headset technology to transport you to over 30 different worlds, from zombie shooting, escape room solving or walking with the dinosaurs. >>>  Berlin-based artist, Claudia Wieser, creates stunning drawings, sculptures, wall installations and tapestries based on the principle of geometric abstraction. They are currently on display at the Glass Cloud Gallery on Hampstead Road. Read  last week's update, here.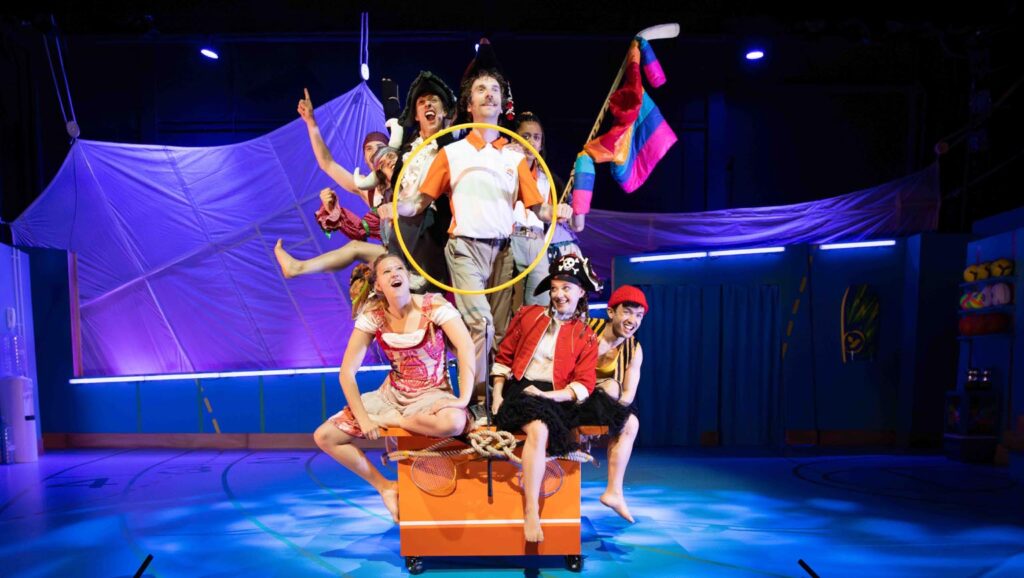 Scottish Dance Theatre are swashbuckling their way into Euston