This week's highlights
---
Pride brings the excuse to cut loose


You may feel that Pride has become an orgy of corporates indulging in raindow-clad gaywashing, but nobody can deny that after a Covid-enforced two-year hiatus, the big parade and associated myriad of parties are likely to return with serious vigour this Saturday. Our pick of the bumper local crop? Head to Egg LDN on York Way for a special all-night affair with DJs including Pagano, Boris from Berlin, rising stars Frankel & Harper, nightlife stalwarts Jeffrey Hinton and Auntie Maureen, plus hot club collective Uokhun? up in the loft. Over at Roundhouse, Horse Meat Disco present their biggest party yet with a 5pm start. It's sold out (but look out for resales). Euston's Zodiac Bar has a full Pride programme all weekend promising fierce drag and plenty more, or swing by the bottomless booze lunch and Pride DJ sets down at Arcade, the rebooted food hall under Centrepoint.  
QUICK! Win 4 x summer festival tickets over on @camdenist Instagram
Grow at Alma Street Fair…and online


Camdenist's summer 'Grow' season continues with activity in both the real and online worlds. Over in Kentish Town this Sunday afternoon its the return of always-stonking street party Alma St Fair, and we'll be there, hosting one of the stalls. We've got copies of the lovely new 32-page magazine Camdenist Presents…Grow to give you, plus loads of stickers and hundreds of free sample packs of Clipper Teas, so do come down and say hello! Meanwhile online, read the exclusive interview with Nicole, one of the founders of Story Garden, the hidden oasis of urban gardening and community activity waiting to be explored slap bang in the middle of King's Cross.

Baklava Ice Cream Sandwiches & Californian dining


The run of sunny weather has highlighted what a world class ice cream scene we have across Camden – if you're gelato-inclined. Alongside the nitrogen-frozen and stretchy creations are Darlish, pioneers of the obscenely decadent baklava ice cream sandwich, who have moved in to new premises at Covent Garden's The Yards. It's a fittingly Persian inspired store, to complement the saffron, cardamom and tahini flavours they're partial to serving up. Meanwhile, in other local/global food news, Dartmouth Park's Disappearing Dining Club host weekly Wednesday night supper clubs throughout July celebrating the many flavours of California. A four-course menu of West Coast-inspired dishes is paired with cocktails and Californian wines, all to a suitably atmospheric musical soundtrack of LA jazz, Golden State soul and lazy rock 'n' roll courtesy of Dartmouth Arms resident DJ, Neil Thornton. 

101 Dalmatians are let loose in Regent's Park


We're tickled by the vision of scores of spotty dogs bounding en masse through the leafy Royal Park, and though it may not quite live up to the headline, the prospect of a balmy night at the beloved Open Air Theatre watching the Disney classic come to life on stage is surely the next best thing. Performances of the play begin a summer run from next Tuesday, so leash yourself some al fresco dog show tickets while you still can. Woof woof!

Camdenist X Nelle: new t-Shirt collaboration


Introducing Camdenist X Nelle, the second t-shirt in our series featuring collaborations with local creatives. Born and raised in Camden, photographer Nelle Laurent captures her mum's balcony for the latest shirt in the collection. As she tells us in the full interview, "this space represents Camden for me; the brightness of it, the liveliness of it. It's where I took some of my first photos and somewhere that feels like home." Eagle-eyed locals may have noticed that the image is also the front cover of the latest Camdenist print magazine, Grow, too. Get your hands on the limited edition circular economy t-shirt. 

Have an idea for a future t-shirt? Email us 
team@camdenist.com

Also this week…
This weekend see both The Other Art Fair and also The Drops are on, maximising the King's Cross outdoor market game >>> Tonight at Parkway's Jazz Café a month-long residency kicks off from Habibi Funk, the Berlin-based label that celebrates eclectic Arab and global funk sounds, with Gia Fu and House of Afandi DJing >>> Brilliant news that the long-dark Rossyln Arms in Hampstead is to reopen next month as an all-day dining and drinking spot named Oak & Poppy >>> Two local spots picked up the honours at the 2022 London Curry Awards, with Kilburn's Anjanaas winning Best South Indian Restaurant of the Year, and Euston's Chutney's scooping the coveted Outstanding Restaurant of the Year prize.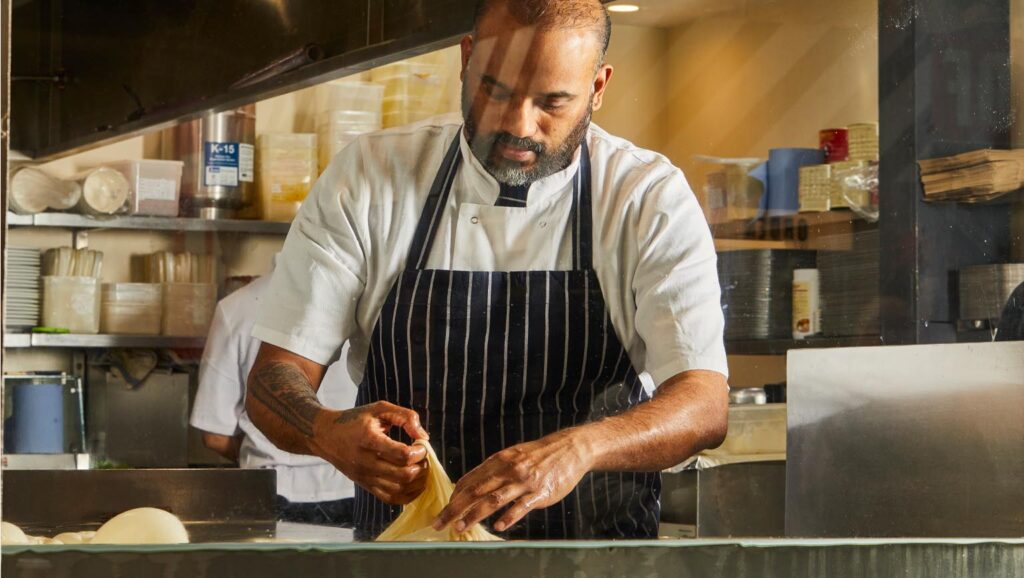 An unexpected enclave of global flavours in a neighbourhood that offers plenty more than the famous railway terminus