20 reasons why Library of Things is great
20 reasons why Library of Things is great
Promoting the idea of borrowing rather than buying your DIY tools, cleaning and gardening machines, cooking gizmos and much more, Library of Things is bringing a simple but important concept to high streets from Morden to Kentish Town.
As their latest branch opens in Kilburn Library, we've put together 20 reasons why you should give these rapidly expanding champions of the circular economy a whirl…
1 Borrowing = less waste
With pretty much everyone (at least occasionally) now doing their bit towards achieving a low carbon future, borrowing easily trumps buying. What's the point of owning that circular saw you used once to make some shelves and then leaving it in the loft for a decade?
2 It saves you loads of money
Borrowing a karaoke machine and projector when throwing a party (and perhaps a heavy duty carpet cleaner afterwards) costs a fraction of investing in all that clobber – and you can borrow it all again if you ever dare throw another bash in future.
3 It's also cheaper and more convenient than traditional hire companies
Library of Things was set up first and foremost to make an environmental and social impact, not simply to turn a quick buck, so items are purposefully affordable and you pick them up on the local high street, as opposed to having to take a long drive.
4 This supports your struggling local library
Being able to rent all manner of useful DIY tools gives people a whole new reason to visit their local libraries, when in all likelihood most have probably not have thought about popping in to take out a book in donkey's years.
5 It also brings people back onto to high streets
With so many different handy things to rent, the libraries also really help us to reimagine our ailing high streets, placing them back at the heart of a community by adding a whole new service that's super-convenient and often within walking distance.
6 The service is dead easy to use
Reserve a 'thing' on the LoT website, then head down to your local library kiosk the same day, unlock it with your email code and take it home.
7 All this cuts the clutter
Urban living means every inch of our homes are valuable real estate, and saving space is a must. LoT report that a shocking 80% of our household items are used less than once a month. Time for a new approach.
8 It also helps improve our circular economy
Central and local government need all the help they can get to reach their urgently approaching net zero targets, and communities sharing useful items is a huge way of cutting down on wasteful landfill and unnecessary production elsewhere too.
9 And creates local jobs too
Each Library contributes directly to employing people living in the community, circulating 85% of its revenues back into the local ecosystem via hire fees, too.
10 They've got a brilliant business model
Maintaining the integrity of the LoT's social and environmental purpose has been cleverly achieved by setting up an innovative governance structure. The short explanation is that this means it can look to make a profit – vital to ensuring long-term success – but protection from all the usual pressures to maximise value to shareholders is hardwired in by law.
11 Using the service promotes more borrowing
In fact, LoT reports that 60% of their customers say they're now more likely to repair and recycle their stuff, as well as to borrow from the library again.
12 It's a social experience
Once you've used a thing, you can also sign up to receive the local area newsletter, which will regularly invite you to come along to skill-sharing sessions with your neighbours.
13 It's educational, too
It's risky/pointless to invest in a load of shiny new gubbins to indulge your pasta-making or sewing ambitions if you then quickly discover it's just not for you. LoT gives you a low-risk chance to try out all kinds of potential new hobbies and vocations for just a few quid.
14 You might even find it's a way to keep fit
Borrow a hedge trimmer or lawnmower at the weekend and get active in the great outdoors. It's sure to be a good cardio workout, with the added bonus of finally getting the tangled mess that is the garden sorted.
15 It helps stimulate ideas
From a simple spring clean to a full-on DIY frenzy, just browsing the devices and accessories you can drop by and borrow can inspire your next big project. Give it a try!
16 There's plenty of help available
Picking up a rather cumbersome or heavy thing but don't have a car? The LoT website has an offer on Zipcar rentals, or you can even have an item delivered right to your door via PedalMe e-bike riders.
17 You can track your positive impact
See how much waste you've saved from landfill on the website (borrowers have diverted over 50 tonnes so far), how much money you've saved versus buying items new, and even how much space you've saved by not owning the item.
18 It's a female-founded company
Started by three friends who happened to be neighbours, the story began with them running a short experiment at West Norwood Library and has grown over the last eight years via a mix of passion, determination and shrewd fundraising in a landscape that's still male-dominated. It retains a proudly feminine touch across the entire enterprise.
19 You can invest if that's your thing
There's still plenty of work to be done setting up more libraries that each will have a positive impact on so many levels. If you want to stick some money behind it, here's how.
20 It's rewarding
We defy you not to feel a palpable bit of cheer from your choice to borrow not buy, let alone lifted by the outcome of the drilling, cutting, making or playing that it enables.Kilburn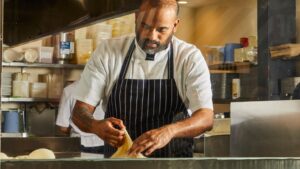 An unexpected enclave of global flavours in a neighbourhood that offers plenty more than the famous railway terminus