10 quirky facts about Jon Snow
10 quirky facts about Jon Snow
…as his Snowcast podcast launches
Legendary newscaster, local hero and national treasure, Jon Snow just added 'podcaster' to his impressively bulging CV this week, with the launch of the Snowcast, recorded at Spiritland in King's Cross. You can find the first episode, an interview with gonzo documentary film-maker Jon Ronson, on the Snowcast.uk website and via all your usual podcast platforms, with new episodes landing weekly.
Snow has been a highly active member of the community here in Camden for decades, always happy to put in the hours in support of the good stuff. Now, unshackled from 50 years working under the constraints of regulated broadcasters, we thought we'd preview the exciting direction his podcast might take, by way of a rundown of 10 quirky facts and amusing titbits about the 75-year-old dynamo…


1. Signature threads & wheels
Jon has lived in both Tufnell Park and Primrose Hill throughout the phenomenal 32 years he was anchor at Channel 4 News, proving a familiar sight riding his bike up and down to work at ITN in Gray's Inn Road, always resplendent in trademark suit, loud socks and tie.

2. Caught in a sting
So famed for being seen on and photographed with his bike did he become, he was offered the role of President of Cycling UK. This made it fairly embarrassing when he was caught running red lights and infringing the highway code in all kinds of ways when followed to work by The Daily Mail in this sting operation back in 2010.

3. Broad horizons
One of his first jobs was as director of the New Horizon Youth Centre in Somers Town, which helps people who have been pushed into homelessness. It's an organisation he's supported ever since as Director, Chair of the Board and Patron.
4. Hip hop guv'nor
He was a school governor at Brecknock Primary School for many years (it's where his kids went), and proved a firm favourite of the students. Alumni and rapper AWATE cited Snow a being personally responsible for making sure he wasn't expelled after multiple exclusions, resulting in the two of them briefly working opposite each other at Channel 4 News, as AWATE's career went on to blossom.
5. Camden's compere 
Snow has been the compere of Camden Music Service's biannual all-schools festival held at The Royal Albert Hall since it began in 1998, only missing the most recent edition – which took place in the uneasy days of March 2020, just before the Covid lockdowns – as he was quarantining after returning from reporting on the spread of the virus in Italy.

6. Glasto selfie hero
He famously – allegedly,  of course – shouted 'fuck the Tories!' at Glastonbury festival in 2017, whilst appearing somewhat joyfully lubricated in a series of more than 1000 social media selfies snapped with fans.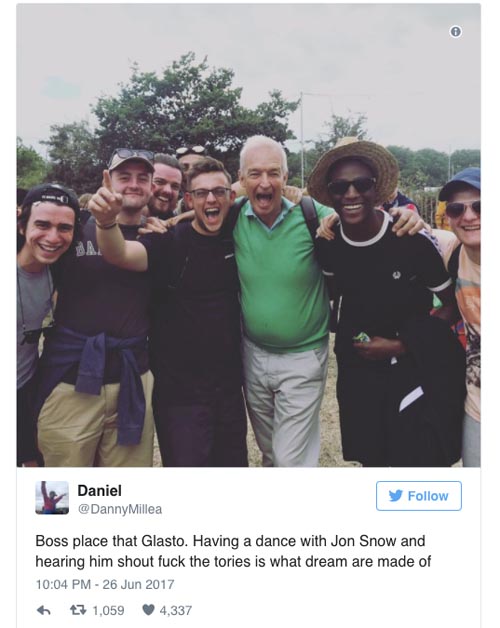 7. Kicked out of Uni
Despite working under broadcaster's neutrality, his politics have nevertheless always defined him, starting with his expulsion from the University of Liverpool in 1970 for participating in an anti-apartheid socialist student protest.

8. Award-winning reportage
His work as a correspondent pre-Channel 4 involved award-winning reports from far flung locations including Iran, Afghanistan, Iraq and a stint in Uganda, where he ended up on a press flight with notorious despot President Idi Amin. When appearing on Dessert Island Discs in 2011, Snow revealed he thought of shooting the sleeping military dictator with his own revolver, but thought better of firing a shot on aboard flying plane.
9. Levelling the field 
In 2018 he took a voluntary 25% 'gender pay cut' in response to the findings that women were getting significantly less across the workforce.

10. "Parklife!"
He sang a barnstorming rendition of Blur's 'Parklife' in 2013 alongside the Mayor of Camden and City Hall Night Tsar Amy Lame, at an event to mark what would have been the 30th birthday of Amy Winehouse. And here it is…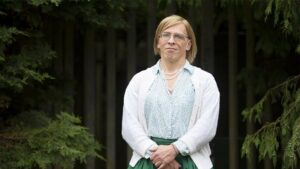 The importance of our epiphanies, relaxed friendships and what it's like to raise a trans voice today