60 mins of free rides on Forest eBikes with Camdenist
60 mins of free rides on Forest eBikes with Camdenist
Get your code for an hour of free ride credits here
What exactly is Forest (formerly Human Forest)?
They are a visionary eBike company, offering convenient zero-emissions transport via a shared bike hire scheme operating in Camden and across London.
Forest are helping build a happier and healthier city for all through sustainable and fun daily travel. Their mission is to get London moving in a way that promotes health and wellbeing, and improves air quality.
Why are they better than the other bike hire brand I see around?
Their eBikes are the cheapest and most sustainable in the market, giving every user ten minutes free riding every day. 
Forest has a unique, adtech-based business model, where ads placed in the app from corporate partners sponsor your free daily rides. It keeps prices low and connects brands with a sustainably-minded community of users, using their advertising spend to give real world value to communities.
How do I claim an additional free 60 minutes credit as a Camdenist reader?
To celebrate Forest's relationship with the borough of Camden, we are offering a special discount code to Camdenist readers. It gives new and existing users an instant hour of free credit that you can use across multiple journeys. That's on top of the free 10 mins each day!
Simply sign up to receive our free weekly newsletter and you'll receive the code by return email. Share the emails with others too, as we want to get all of Camden riding Forest eBikes for free.
Ts & Cs
Once the code has been entered into the Forest app, the user will have 3 months to redeem it before it expires. The free riding does not account for parking fees (50p inside Camden, £1 outside the borough). The service is valid across the Forest's operational zone.
Why is all this cycling such a big sustainably win?
The entire Forest fleet (and service fleet) is powered by certified renewable energy. Forest is one of only two micro mobility firms worldwide to have BCorp accreditation and the only one to be validated by Verra for carbon reduction standards.
In May this year, Camden chose Forest bikes to be an official operator within the borough, which is why you're never far from one. We're big fans of hopping on one of their bikes for a free local ride, and with 60 mins of free riding available to all, we expect to see a fair few more Camdenists on two wheels soon.
Download or open the app ad get using your free minutes now. Find out more about Forest via their website.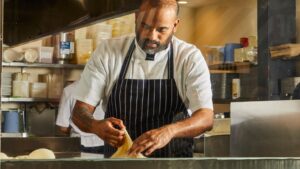 An unexpected enclave of global flavours in a neighbourhood that offers plenty more than the famous railway terminus