DJ Paulette on popping her Trade cherry
DJ Paulette on popping her Trade cherry
The infamous local party returns
Trade will forever be known as one of the most influential parties to emerge from London's throbbing 90s nightlife scene. The original afterhours bender, it ran at Clerkenwell club Turnmills from 4am on Sundays and became legendary for its cutting edge music and polysexual crowd. These days it re-emerges for occasional blow-out anniversaries at EGG LDN, the York Way venue owned by Trade's flamboyant promoter Laurence Malice.
He remains passionate about keeping the party relevant while also celebrating its rich hedonistic past, so for the 2023 return (Sat 25th Feb) has enlisted a red hot line-up of DJ talent, including DJ Paulette, who commands her own chapters of 90s rave history via her residency at Manchester's Hacienda.
Fresh from receiving a hard-earned Lifetime Achievement Award from DJ Mag, Paulette is still at the top of her game after three decades behind the turntables. In fact, after returning to the UK having lived in both Paris and Ibiza, her diary has arguably never been so full, with high profile sets at the likes of Printworks for Glitterbox and the Warehouse Project for Homobloc.
We've bumped into her all over the world, but caught up this week to speak about coming to Trade and her fond history of partying right here in Camden.


Tell us a bit about your relationship with the mighty Trade.
I've admired and been a very impressed onlooker for years, and I always loved the eye-popping artwork. Loads of my friends are resident DJs and regulars – many are lifelong devotees – but believe it or not, I've never been to or played at Trade. In 2023 I am popping my cherry. Unbelievable right?


How important is it for a heritage club event like Trade to still be celebrated – is it culturally relevant or just a lovely excuse for a get together? And what do you think introducing 'newcomer' DJs like yourself and Eats Everything will add to the mix?
When a party such as Trade rightly achieves historic, legendary and iconic status through time, it more than merits another proud prance around the electronic music and LGBTQIA+ rodeo. Adding newcomers and allies to the line-up gives it a present day gravitas and makes it relevant and exciting to a new generation of disco pilgrims eager to discover why it's so legendary, and also make it their own.


You've been winning awards and playing some of the biggest gigs of your life recently – what does it feel like to be riding high after all these years behind the decks and what do you think has come together recently for you to connect with clubbers across the generations so successfully?
It feels really good. I think it's happened because I've always been a self-starter and have never stopped working, I've kept pushing the boundaries, making new contacts and have kept evolving – even when lockdown and the pandemic had other plans for us all. I think that's helped me to bridge the generation gap immensely. Maintaining three cross-genre weekly and monthly radio shows for the last seven years with Reform, together with my more eclectic Worldwide FM and Global Residency, then my involvement with 6 Music and the BBC has presented me to new audiences and has meant that I've always kept abreast of the current music, trends and new producers whilst continually digging into the archives for the forgotten or overlooked gems that can be dusted off and played to fresh ears. Social media also has its part to play and whilst I'm not a crazily obsessed with posting, I do have an engaged following there, too.

What have been some of your favourite memories of going out/hanging out in this part of the world over the years?
Camden has always had – and still has – a special place in my heart. It's a great place to meet and eat with people: it was here where I first experienced the joys of the Blues Kitchen! I always loved a mooch around the Market on Sundays when I lived in London. The Jazz Cafe was a regular haunt of mine for live music and in recent years I've DJed there. Back in the day, I made the weekly pilgrimage to Paul Trouble Anderson's (RIP) The Loft at HQs (now Lockside) and followed Janine Neye, Gilles Peterson and Patrick Forge to Dingwall's (now The Powerhaus). Come to think of it, I had an incredible session at KOKO DJing at Sam Divine and Friends last year. It's such a glam, hype place for a party. There's something for your mind, your body and your soul in Camden, you just have to dive in.
DJ Paulette makes her debut at Trade alongside headliners Nicole Moudaber and Eats Everything, Saturday February 25th 2023 at Egg LDN. 6pm till Sunday morning and beyond. Early Birds sold out. 2nd release tickets from £25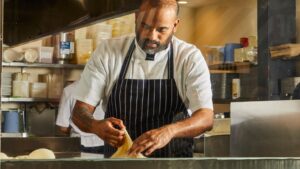 An unexpected enclave of global flavours in a neighbourhood that offers plenty more than the famous railway terminus