Stolen Somers Town treasures return home
Stolen Somers Town treasures return home
Public artworks retrieved after over 100 of them were nicked
What happened?
Back in the 1930s, St Pancras Housing Association was a trailblazer in innovative social housing projects, founded in a belief that an affordable, quality home is the foundation for a successful life. Central to this came the idea that public art should be on display in the courtyards of Somers Town estates for working class people to enjoy. So, the famous artist Gilbert Bayes was commissioned to produce over 100 decorative sculptures that sat on top of the estate's washing line pillars. But over time, almost all of them have gone missing.
One hundred went missing! How did such a grand theft occur?
The first pieces started to vanish once thieves realised they were fairly easy to prise off and were worth a bit at auction. The Association, (now Origin Housing), eventually thought it would be safer to remove all Bayes' sculptures and put them in storage until a more secure way of displaying them was thought up. However, it turned out the storage was basically an open garage, and at some point, a wily art thief drove up a van, and made off with the whole lot.
Who has been trying to track them down?
Social historian Stephen McCarthy and the founder of Phoenix Rd's lovely Somers Town People's Museum – aka A Space For Us – Diana Foster. We bumped into Diana at this week's Knowledge Quarter Conference just around the corner from her museum, and she told us the latest twist in the story, which has resulted in her buying two of the finals (as they are known) back for the community via an auction in the USA.
It can't be easy to get rid of 100 stolen sculptures without them popping up eventually.
Exactly. So eagle-eyed Diana spotted two late last year, and managed to raise £13k in the space of a week with which to secure them. They will return to public display at a special event this Saturday at the museum, including family-friendly workshops, local heritage guided walks, films and talks from 1.30pm until 4.30pm. Find out more and get a ticket to show your support here.
What about all the others?
Diana has uncovered reports of Bayes' finals previously going for tidy sums at places including Bonhams and Christie's, so the museum and Origin Housing are keeping an eye out for more in future. "It's important we bring as many of them back to their home as possible," she told us. "We want these unique public artworks to be displayed for everyone in Somers Town again, as was originally intended."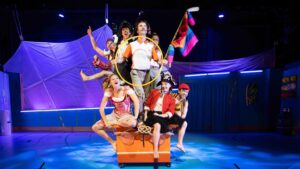 Scottish Dance Theatre are swashbuckling their way into Euston