Dingwalls: Camden's iconic music venue is back
Dingwalls: Camden's iconic music venue is back
How it made its name (and briefly lost it)
As it prepares to celebrate a rock 'n' rollercoaster 50 years, a grey cloud that's hung over Camden Market live music spot Dingwalls has lifted with perfect timing. Because for the last few years, the venue has not been allowed to use its famous name.
That was careless. How on earth did it happen?
While we were all sat at home during the first 2020 lockdown, it was great to hear news that Camden Town's iconic Dingwalls dance hall was preparing to reopen for a post-Covid era, under a brand new owner – the equally legendary London promoter, Vince Power. But when we interviewed him back then, he revealed that Covid wasn't the only thing upsetting his carefully laid plans. It turned out the name had been copyrighted and was actually owned by someone else.
No! What did he have to say about all that?
Vince said: "basically, I did a deal with the Market and didn't even bother asking if the name was included in the whole purchase. Then this woman gets in touch and says 'you don't own the name Dingwalls', and sent me documents to prove it. She'd been here during the time they turned it into a Jongleurs comedy club, and had found a way to monetise the old Dingwalls name. I don't know what exactly she was doing, probably selling posters, t-shirts, things like that. So, I went to try to do a deal with her, but she wanted a hundred grand. We got in fights about that, so I just went ahead and called it the PowerHaus because that was the name of a good place in Islington I'd owned before."
How did he get it back?
According to this week's Camden New Journal, with the 50th birthday approaching, he thought he'd make a new counter-offer, as the name was just "too good" to be discarded over trademark wrangles. 
Why is it important?
The stone cold rock 'n' roll history! It was key to the formative years of Punk, hosting The Clash, The Ramones, Ian Dury-fronted Kilburn and the High Roads, and The Sex Pistols. In '76, The Stranglers' bass guitarist took on The Clash and The Pistols in a punch up outside which made national newspaper headlines, confirming Dingwalls as the hottest of late night hotspots. Later Blondie enjoyed their first ever UK date here, while stadium acts like REM, Coldplay, Foo Fighters and Radiohead have played intimate early gigs here. As baggy bands like Primal Scream and The Stone Roses made way for the Britpop wave of Blur and Pulp, they all came and played Dingwalls.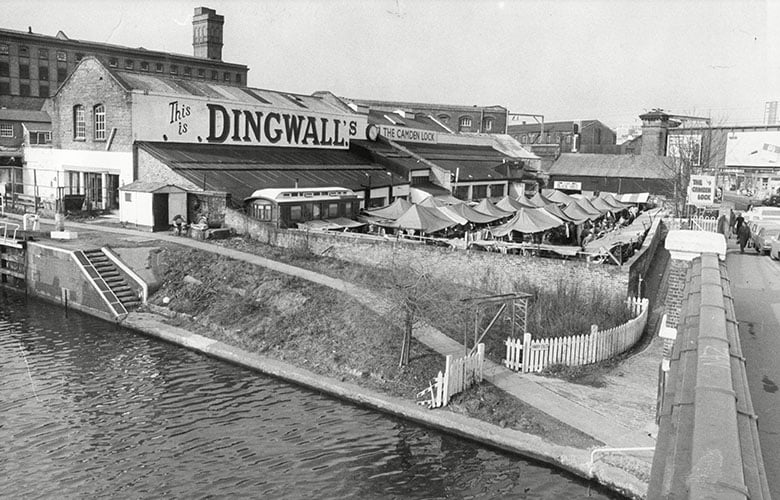 When and why did this whole story start?

An industrial-era warehouse alongside Regent's Canal, the building was at the heart of Camden's goods interchange, gin distilling and horse stabling landscape. So it had various uses over the years, from the storage of oil drums to time as a printer's, the home of horse-drawn-cart firm John Walker, and 1946, Mr T E Dingwall ran it as a timber packing case factory, emblazoning his name on the outside. When local industry collapsed here after the post-War years, the guys who'd bought the whole site had a 'dance hall' in their plans, as well as ideas for a Sunday market. Both soon took off.
Ah yes, Londoners would soon have a real thing about dancing in defunct Victorian industrial warehouses (see Bagley's in King's Cross, York Way's EGG and plenty of others).
They sure do, but Dingwalls was North London's very first. It had a 2am license when most of the capital shut down at 11, too, meaning it drew crowds up to the abandoned wilds of Camden Town.
And it was also a pioneer of daytime raving, if my hazy musical memories still serve me well…
Yes indeed. DJs Giles Peterson and Patrick Forge ran the proper legendary Sunday afternoon session Talkin' Loud and Saying Something at the venue from 1986-1991. It was the heyday of then-pirate radio station Kiss FM, which gave the party a big profile on the airwaves, seeing crowds of enthusiastic tourists mix with serious jazz dancers, and then house music club heads too, turning Dingwalls into the birthplace of the acid jazz scene during those sweaty, hedonistic weekend ends.
And now the dance hall about to be 50.
The celebrations are planned for June, so look out for more info, as the venue's rich history rolls on into yet another era. We think Vince's investment in getting the name back is almost certainly a shrewd one.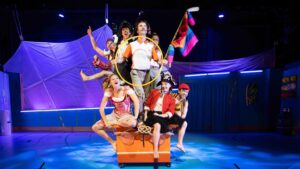 Scottish Dance Theatre are swashbuckling their way into Euston