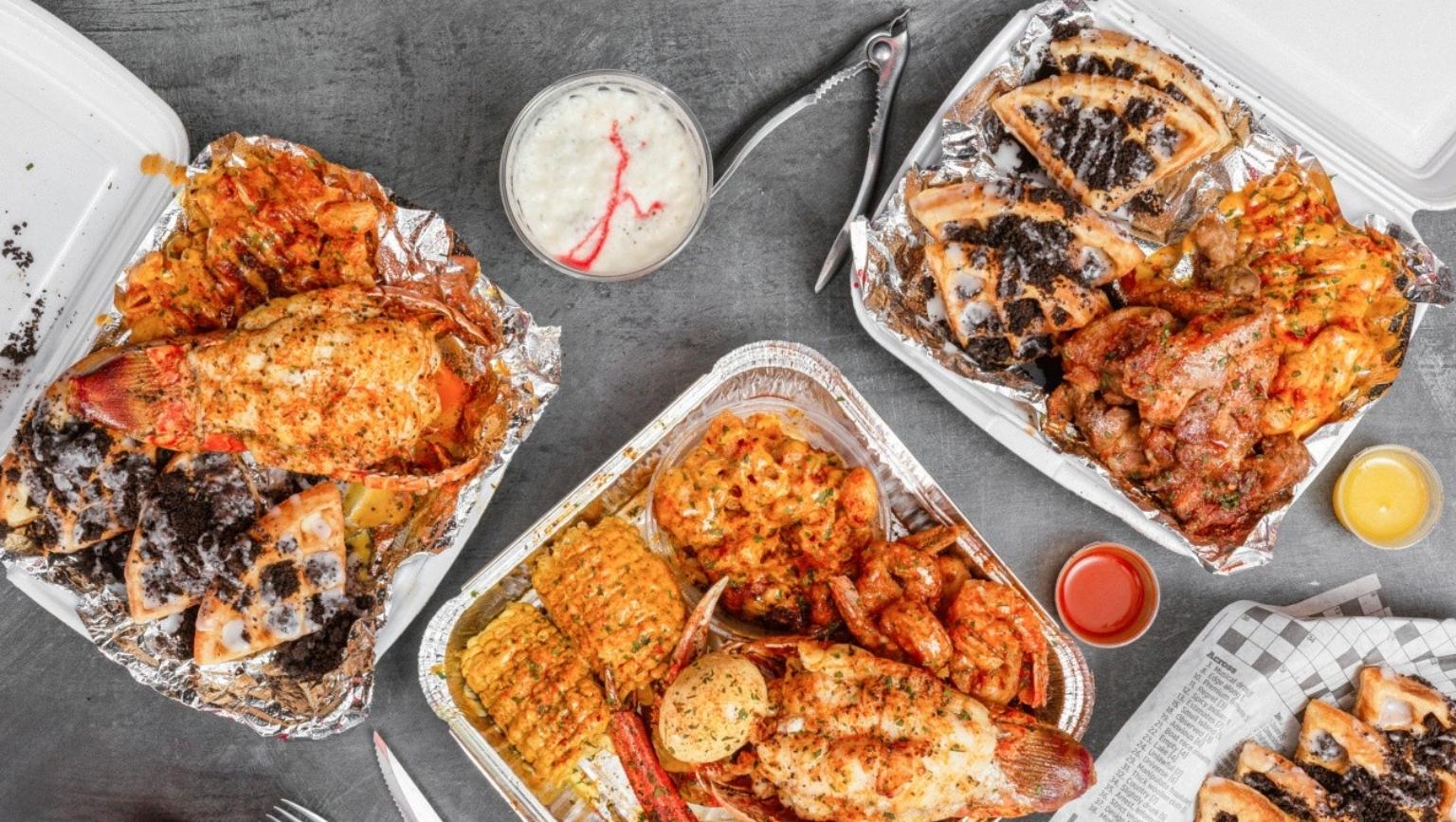 Trap Kitchen began when Prince 'Shakke' Cofie-Owusu posted photos of his cooking on Instagram. He'd only ever cooked for him and his brother, not thinking of becoming a chef, but soon queues of customers pulled up outside his mum's flat, eager to try his food. "Cooking has completely changed my life. If I hadn't started taking photos of my food and selling it on Snapchat and other social media, my life would be totally different now", Prince tells us.
"Growing up, things weren't always easy and a lot of the time we would have to fend for ourselves. Often it was cheap own brand Netto cereal. When my mum cooked it was usually African food, meat or fish and rice or stew." Not only influenced by African flavours, Prince tells us that American videos and food programmes on TV, and Asian and Caribbean flavours also inspire him. A true reflection of our increasingly globalised culture, he says, "it's hard to put our food into just one box."
Trap Kitchen Arrives in Camden
Trap Kitchen has just arrived in Camden, after searching for over a year and taking on the derelict site that was once home to La Porchetta. "Covid changed things and gave us the opportunity to afford something in Camden, which would've been impossible before. It took us about eight months to sort out, but we're nearly there", Raquel, Trap's HR Manager, smiles.
After launching over the weekend, there's a palpable excitement in the air. "We didn't run out of food, and we didn't turn anyone away, so it was a success in my books. We're hoping that being in Camden, with its huge footfall and visitors, will mean we reach an even bigger audience. It's a big change for Prince – from cooking at his mum's to this!"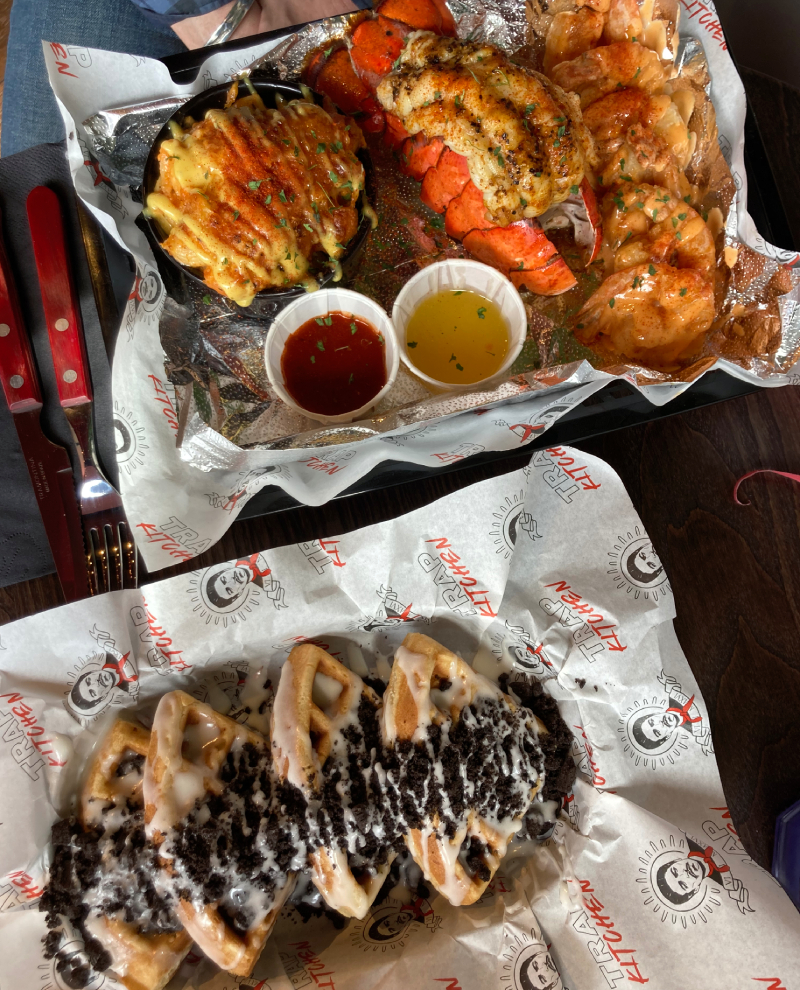 When you arrive at Trap's front door on Chalk Farm Road, there's a glinting gold plaque that reads 'TRAPKITCHEN, CAMDEN, est. 2022'. The opulence continues inside with large chandeliers, cherry blossom and plush seating. Paintings by Calypso Bené hang on the walls and there's a glow-in-the-dark Instagram 'trap' leading to the bathroom.
We sampled the menu and everything was delicious
Drinks include Hennessy sharing kegs, hard slush and rum punch. We settle on super-sweet purple grape and strawberry slushies that come with edible straws. Then comes the food: juicy lobster tail glistening with butter and spices, crispy but succulent Bang Bang prawns with hot sauce and butter on the side, a rich, melty, mac 'n' cheese and fluffy waffles with an Oreo topping. The mac 'n' cheese might just be the best one I've eaten.
What's Prince's favourite dish on the menu? "Right now, it's the Remix!, the new version of the original bucket but the seafood is deep fried and golden. It's delicious."
What's in store for Trap Kitchen in the next five years? "My dream is to see one on every high street. I want everyone to have the finer things in life like seafood and to experience that regardless of their background, what they're wearing or what their social status is." Covid changed the hospitality industry with it becoming increasingly hard to find committed staff. "Luckily we now have a great team in place."
Does Prince live by anything in particular? "If life gives you a mountain, move it." You can follow the Trap Kitchen on Instagram @trapkitchen
If you enjoyed this article, check out Camdenist for more.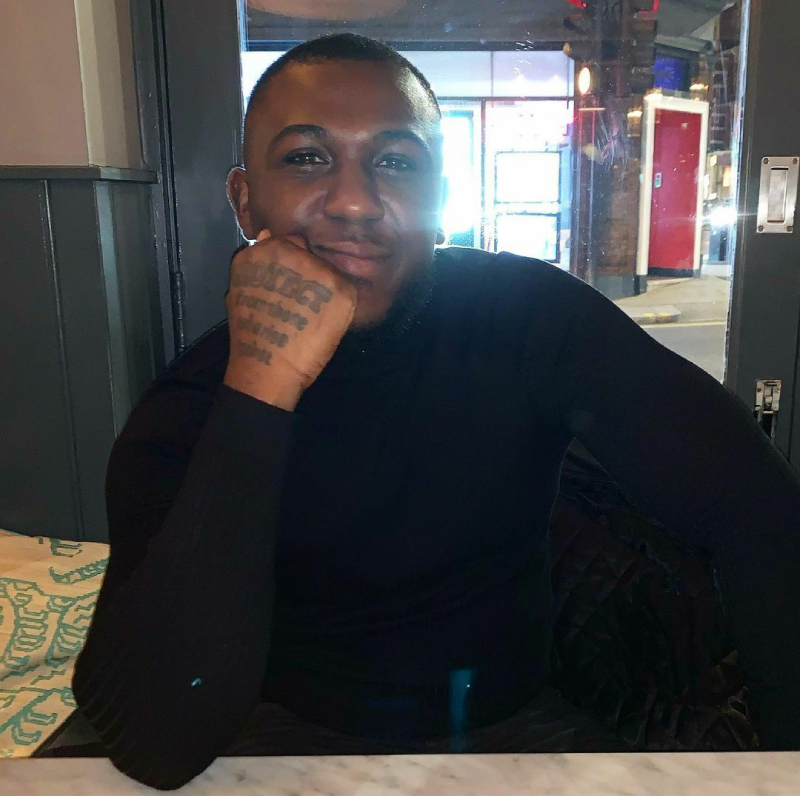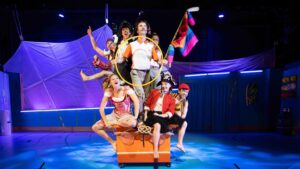 Scottish Dance Theatre are swashbuckling their way into Euston