Toba: Camden Lock's Indonesian fave opens in St James's
Toba: Camden Lock's Indonesian fave opens in St James's
From railway arch takeout to fine dining hotspot
I hear a railway arch noodle stall is going up in the world?
Hey, it's not just any Camden Market noodle stall, it's Pino's Warung, famed for cooking some of the most authentic and in-demand Indonesian classics in London. They've only gone and opened their second venture, Toba, in the posh Piccadilly dining enclave of St James's Market.
That's quite a contrast, the food must really be something.
Yes, there aren't than many places in London where you can find the real deal, so Pino's is always full of Indonesians happily chowing down on the flavours of home. It's an even more impressive trajectory considering they first opened in Camden with the most inauspicious timing – just a couple of weeks before the first Covid lockdown.
Ouch. So who's the visionary who's made it work?
Before answering a calling to showcase the rich, spicy cuisine of his home archipelago, Pino Edwards worked as the members club manager at Mayfair institution Annabel's, so he's no stranger to the West End's most glamorous food and drink neighbourhood. An opportunity came up to launch Toba when Ikoyi moved from its St James's Market site to 180 The Strand.
Wait, you mean the two-Michelin starred West African fine dining sensation Ikoyi?
That's the one. It famously had a shaky start of its own, when diners didn't really understand the innovative fusion dishes coming out of the kitchen, but the owners persisted, and their gastronomic gamble has paid off big time. Hopefully Toba's story is already set on a similar course.
Talking of courses, I'm hungry. What can I expect to eat?
You could start by plunging a few classic 'sate ayam' charcoal-grilled chicken skewers into a rich peanut sauce, then pick something suitably high end such as the 'ikan arsik' cod fillet with torched ginger and andaliman, or go for the iconic beef 'rendang', slow-cooked in coconut milk until the meat falls apart. Plant-based diners will love the 'semur tahu' tofu and tempe which balances savoury and sweet, and you can have three different varieties of home-made sambal chilli paste alongside it all.
Can I get a stiff drink too? I know booze is a bit of a no-no in more traditional Indonesian joints.
Don't worry, there's a big wine list, and the classy cocktail selection includes such adventures as a 'pandan old fashioned', infused with the unique grassy flavour of the Southeast Asian desert staple pandan leaf.
Sounds suitably St James's. The windy cobbled railway alley of the original Pino's Warung had real charm, though.
Don't worry, that's still there too! You can still drop by their hatch for their ever-popular gado gado salad and bakso meatballs in bone broth, but do check current Ramadan opening hours.
Toba is at 1 St James's Market, SW1Y 4AH. Find out more
Pino's Warung is at 2 Italian Alley, Stables Market, Chalk Farm Rd, NW1 8AH Find out more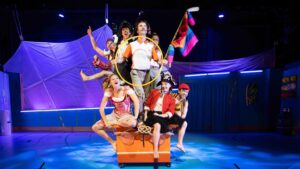 Scottish Dance Theatre are swashbuckling their way into Euston