London Shell Co lands in Swains Lane
London Shell Co lands in Swains Lane
£2 oysters with wines and cocktails at this new destination fishmongers and restaurant
What is the London Shell Co.?
Two restaurants on boats in Paddington, with a focus on fresh fish and seafood. The Grand Duchess is stationary, The Prince Regents elegantly cruises down the canal while you eat and enjoy the view. Both offer a dining experience unlike any other, especially for anyone desperate to feel like they're on holiday.
Who is behind it?
In 2016, brother and sister duo Harry and Leah Lobek founded London Shell Co. with chef Stuart Kilpatrick. The restaurant has made a name for itself serving fresh and seasonal dishes like their trout sausage roll, Cornish cod with mussels and a seaweed pistou and ray wing with confit onions and chicken butter.
Sounds delicious… what's it got to do with Camden?
The dream for the siblings has always been to open a neighbourhood restaurant with a fish counter, "somewhere you can stop to pick up your fresh fish for the evening, accidentally smash 6 oysters, a crisp glass of wine and then return home to smugly prepare your dinner." Well, here it is, in Camden. The London Shell Co. has finally grown some legs and found a spot on dry land. Their third restaurant hosts 30 covers and doubles as a wine shop and fishmonger.
When can I go?
Now! The fish counter opened on 21st March so head down to the 'riot of rigour mortis' for fresh fish, seafood and wine, including their very own Grand Duchess English sparkling wine. You'll have to wait a few tides more for their restaurant to open on 28th March.
Tell me more about the food!
There's a daily changing menu with a focus on quality and a thoughtful wine and drinks offering. You can also buy fish and wine to take away at retail prices. Most importantly, from 4-6pm everyday they're offering £2 oysters and £2 off all glasses of wine and cocktails.
How do I get there?
Landlubbers can stroll across the Heath to Unit 4, Sonny Heights, Swain's Lane in the knowledge that oysters are waiting at the other end, with open shells.
Find out more here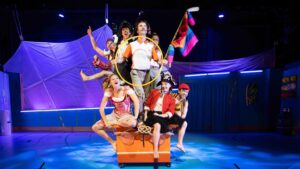 Scottish Dance Theatre are swashbuckling their way into Euston