Good Company: a tap room & café with a conscience
Good Company: a tap room & café with a conscience
Life-changing coffees meet planet-saving beers
So what do we have here, then?
A new spot in the heart of Euston that does coffees by day and beers by night. So far so standard, but wait, they've got a strong angle on the whole thing.
Ok, Good Company you say? Sounds like a name that could work on many levels?
You got it. Not only is this café-cum-tap-room a collaboration between two existing businesses, and offers a nice environment in which to hang out in the company of others, but every cappuccino or pint sold here boasts impeccably strong social and environmental credentials, too.
But caffeine and booze are my vices! How have they made them virtuous?
The coffee is by Change Please, a social enterprise that pours 100% of its profits into giving living wage jobs, training and even housing to people experiencing homelessness. Meanwhile the beer is from Toast Ale, the brewery that gathers up tonnes of surplus bread, like the end bits of sliced loaves used for sandwich-making, and uses it to brew a range of lagers, pales and IPAs. Oh, and they also give all their profits to food charities, too.
That all sounds impeccable indeed. Anything to eat, or on the rare occasion I want to swerve caffeine/booze?
Of course, and all comes courtesy of a bunch of equally virtuous operators. You can enjoy pastries by Breadwinners, who offer young refugees work and training in baking for cafes and markets, teas by NEMI, who also give work opportunities to refugees and use 100% plastic-free packaging, and hot pies from Pieminister, who begin the year by announcing their certification as a B-Corp.
This certainly raises the bar for, er, bars and cafes to offer a bit more than the odd recycling bin.
And there's even more, from partnerships with the Too Good To Go app, making sure nothing edible is left over at the end of the day, to Bio-Bean, who turn the coffee grounds into logs for heating. The aim is for the space to become a magnet for any socially conscious businesses-owners, although it sounds like they'll be joining quite a queue.
Good Company is at 17-19 Triton St in Regent's Place, NW1 3BF. It's open weekdays 8am-5pm with late nights for the taproom until 10pm currently on Wednesday and Thursdays.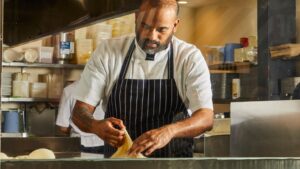 An unexpected enclave of global flavours in a neighbourhood that offers plenty more than the famous railway terminus