10 things you need to know about Camden Darts Club
10 things you need to know about Camden Darts Club
It's all very social.
The pub's function room now hosts three interactive darts lanes, where the computer keeps the score so you can have a hoot with a bunch of mates.

You can party if you discover you're really no good at darts.
Unless you're a treble top kinda player focused solely on the board, there's a lot going on all around to keep you occupied. You'll find DJs every Saturday night or you might want to take over the whole upstairs room as a big group for a private hire, for darts, drinks or dancing.
You NEED to order the pizza. Peckham's 081 Pizzeria have been resident in the kitchen for a while now, and really impressed us with their charred Neapolitan stretchy bases strewn with inventive toppings. The decadent whole burrata and nutty pesto of the Pistachiosa made a refreshing change from the norm, while the Maradona was suitably fiery with Italian sausage and wild broccoli.
They have loads of lines. 19 lines of fresh draft beers, to be more exact. We sank pints of pleasingly hazy IPA courtesy of Cheltenham's Deya Brewery and they were lovely.
Mother's ruin is a house speciality. The Fawcett is proud to stock nearly 150 different gins in its extensive collection, so there's a style to suit every mood and hopefully help mother, not hinder her, with aiming for the dartboard.
Less definitely means more. Weekends see a bottomless lunch on the go, where pizzas and gin fizz or prosecco are unlimited for 1.5 hours. The pub has not one but two roofless garden areas (although there's plenty of shelter in case of rain showers, too), there's the suntrap front or the secluded back. And keeping with the theme, the pool tables are contactless (no more piles of 50p's to reserve the next game, but who's got any bloody coins anyway?)
Service is slick. Manager Joel and his crew feel very on top of the ebb and flow of food orders, drinks and rowdy competitive darts amateurs, so you'll be well looked after.
Save some room for the pistachio doughnuts. They're not overwhelmingly big, but they're a deep fried delight for the end of the night.
By the way, Camden Darts Club might be haunted. Legend has it that Britain's last fatal duel took place nearby in 1873, between a Lieutenant Munro and his bro-in-law Lieutenant Colonel Fawcett, from whom the pub later gained its name. Fawcett was carried bleeding into the upstairs room, where he died two days later. Apparently his ghost still stalks the building.
You can grab a bargain if you're quick. There's 50% off all darts lane bookings until the end of April, and next Friday you'll also get free Hofmeister Helles beer whenever you hear the special horn parp!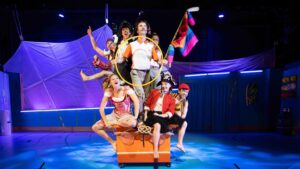 Scottish Dance Theatre are swashbuckling their way into Euston