Lightroom lands in King's Cross
Lightroom lands in King's Cross
Theatre, but not as you know it
A new arts venue opens in the heart of the reclaimed Victorian coal drops at Lewis Cubitt Square this month, but what exactly is it, and why is it destined to become a major cultural force?
It's been a long time coming
The Lightroom in Kings Cross is the latest project by former Nation Theatre duo Nicholas Hytner and Nick Starr, who opened the acclaimed Bridge Theatre in SE1 back in 2017. Here they've teamed up with 59 Productions, who have put on lavish audio visual spectaculars including the 25th anniversary of the Guggenheim Museum in Bilbao and the London 2012 Olympic opening ceremony. The team have all worked on opening Lightroom for more than three years.
It's kicking off with a bang
David Hockney, no less, who's site-specific extravaganza Bigger & Closer (not smaller and further away) opens later this month, and tickets are already flying out (they've just announced extended evening slots, see below). The artist will make full use of giant video screens and state-of-the-art audio to guide visitors through his work and creative process.
So this isn't an ordinary 'theatre' visit then?
Far from it, this is an audio-visual extravaganza across screens that are four stories high, in a purpose built cavernous space, with Facebook owners Meta in the offices upstairs. It's one of the many ground-breaking uses of new technology that are taking performance and entertainment in exciting in new directions in London right now, from the pin sharp 8k screens at Outernet to the stunning meanwhile-use concert halls of Printworks, alongside the seemingly endless immersive theatre shows. There's plenty of innovation going on.
Tell me more about the building?
It's one of the centrepieces of the entire King's Cross redevelopment, complete with signature 'loggias', which are the signature inset balconies on all sides. Its completion has helped define a brand new public square behind Coal Drops Yard on land that was once polluted, abandoned and notorious for all kinds of vice. Visitors to the CogX festival last year got a sneak peek inside the vast space that is now Lightroom, as it was used for various conference panel stages.
Other than the excitement over the Hockney show, what other attractions should I be aware of?
The café and bar in the foyer is a collaboration with Clerkenwell legends St John, adding another top name to the KX food line-up. There's also a gift shop and lots of room for outdoor seating when it's warm enough. Following the Hockney launch, look out for announcements of many more spectacular original shows in collaboration with other leading artists and cultural innovators, all coming down the pipeline too.
So how and when can I go and check it out?
It's open seven days a week, with late booking available. Bigger & Closer (not smaller and further away) runs Feb 22nd – June 4th. Tickets and more info here.
And if you enjoyed this article, check out Camdenist.com for more.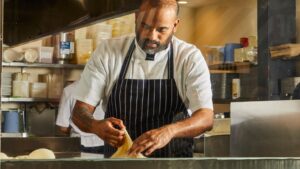 An unexpected enclave of global flavours in a neighbourhood that offers plenty more than the famous railway terminus