Artist Aga Giecko gives Shake Shack a Camden twist
Artist Aga Giecko gives Shake Shack a Camden twist
Global burger giant draws on the local
When you're a cult burger chain with over 400 franchises worldwide, it makes good sense these days not to just parachute into a neighbourhood with identikit décor, food and extractive financial model. And so the arrival of US operator Shake Shack in the prime Camden Town canalside corner formerly occupied by All Saints comes with some decent local outreach, which we at Camdenist are always keen to encourage.
They've teamed up with locally-based Polish-born artist, Aga Giecko, who's given their newest branch a thoroughly Camden makeover, plus have partnered with nearby nitrogen ice cream innovators Chin Chin Labs to supply bee pollen honeycomb for the new local exclusive vanilla custard dessert, the Rockin' Camden Crunch (5% of all sales of this go towards supporting the vital work of Camden Foodbank, too).
This week's launch events with giveaways saw the place mobbed, so looks like they're already making friends, meanwhile we've been speaking to Aga about her colourful commission. She's no stranger to working with brands, having previously created artwork for Nike, Pull&Bear, Lazy Oaf, Ace&Tate, and local beer heroes Camden Town Brewery.
"I wanted to depict the lively atmosphere and great energy of Camden," she says of the work, which includes wall murals she hand-painted inside, and a series of illustrations that have been gracing social platforms and the outside of the building during the restaurant's construction.
"It is very diverse, eclectic and vibrant around here, and I hope that shows in my artwork. The bright colours I used in my illustrations are reminiscent of the colourful shop fronts, street art, and bustling markets found throughout the area, mixed with shades of green, characteristic for Shake Shack," she explains.
"The artwork features floral characters that are in motion; a reflection of Camden's lively atmosphere. The area is always buzzing with people and activity, so my illustrations capture this sense of movement and action. By incorporating bright colours, different local landmarks (like the canal and the Camden Lock bridge) and a sense of motion and energy, I tried to create art that is both visually striking and reflective of the area's unique character."
Up against being bored to tears by all the one-dimensional tourist shots that get tagged as #camden online, (a large percentage of which get snapped right outside the new Shake Shack), we know Aga had to tread a particularly fine line here. 'Brand Camden' can so easily become a visual cliché, but her art manages to infuse the local iconography with a pleasingly individual twist.
"I always start with a sketchbook and a marker pen," she reveals of her process. "I create a mind map and write some key words, defining the purpose of the commission and its audience. After that, I start sketching rough ideas, researching and piecing together a colour palette. Then it's refining and building on that. I love a good laugh and don't consider myself a serious person, so my illustrations are a reflection of that. My work is full of colour, humour, wonky lines and animated objects."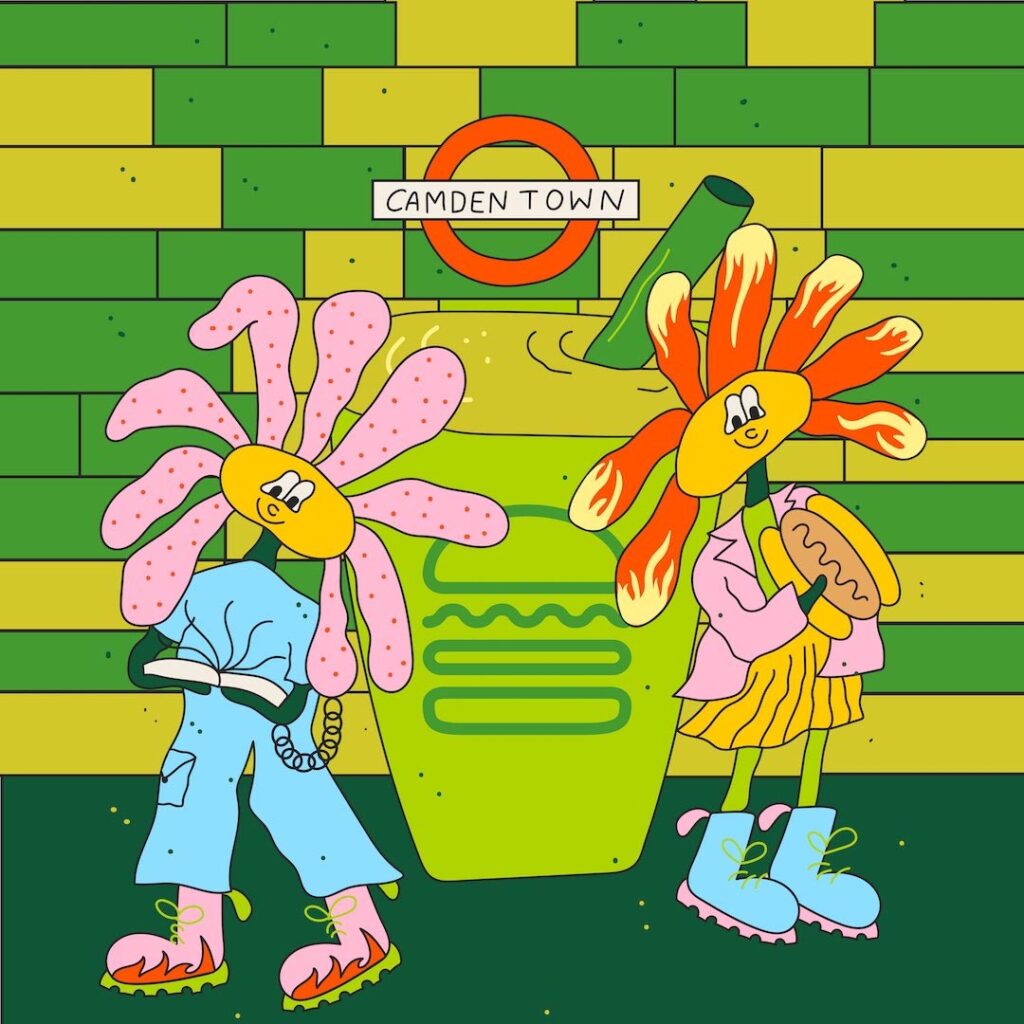 The quirky results feel a world away from the tried and tested fast food franchise playbook of conformity and uniformity. It's a nice demonstration of how international brands increasingly can and should absorb and promote what's going on creatively in the neighbourhoods where they land.
"It's been a great pleasure working with Shake Shack," says Aga, "even though it is a renowned brand with a very strong identity, they are great in terms of balancing that with creative freedom while collaborating with an artist."
You can go see the art for yourself, (and grab a burger) as Shake Shack Camden is now fully open at 207 Camden High St, NW1 7BX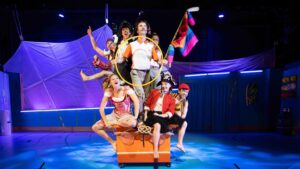 Scottish Dance Theatre are swashbuckling their way into Euston